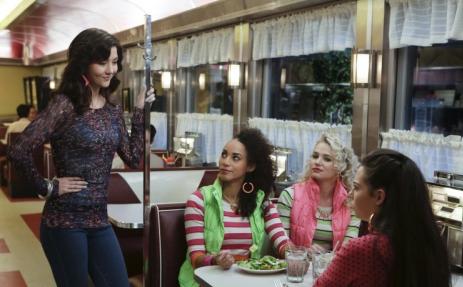 In Monday's all new episode of The Carrie Diaries entitled "Dangerous Territory," Carrie is reintroduced to a boy from her childhood. Only now, he's all grown up. New cutie, George Silver, couldn't be coming into Carrie's life at a better time. She's in need of someone to fill the space in her life following her breakup with Sebastian. It turns out he was not a big fan of her digging into his somewhat shady past.
Carrie runs into George at her internship in the city and as Executive Producer Amy B. Harris teases, George treats Carrie to her very first experience with, "the fabulous, glamorous and very scary, Upper East Side," when he invites her to one of his mother's parties.Will Carrie fit in with the "pretentious" George who never leaves the city except to visit glamorous locations?
While Carrie is getting her New York City glamour on, Maggie goes toe to toe with Donna LaDonna when Maggie feels that Carrie needs protecting and Donna threatens to invade their favorite hangout.
Watch a sneak peek below of Carrie running into George for the first time. You can see an additional sneak peek featuring Mouse going to Walk for help with her sex life here.
Also below, the producer's preview for "Dangerous Territory" with Executive Producer Amy B. Harris.
Visit The Carrie Diaries page for spoilers, photos, sneak peeks, reviews and more.
http://youtu.be/sY1VJT3gtr8
http://youtu.be/UAxLoPOESDo