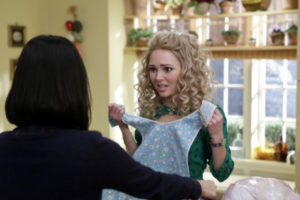 In the next all new episode of The Carrie Diaries, Carrie is hosting her first Thanksgiving dinner party since losing her mother. She is determined to make the best of things, keep old traditions alive and work hard to fill her mother's shoes, even donning her mother's apron.
Tom appears unsure of her ability to pull it off, especially after he has invited Harlan and George over to spend the holiday with them. Dorrit isn't shy about her disapproval of Carrie's plan, and is especially worried about the food. Probably with good reason. Carrie has never cooked a day in her life. It looks like that becomes pretty obvious.
Thinks aren't all bad for Dorrit, though. In the Sneak Peek below, after an initial bad attitude in his general direction, she finds herself bonding with Carrie's new guy, George. Apparently he went through a dark phase as well, wearing all black and naming small animals Morrissey. And I guess they were both biters. Ouch.
Check out the producer's preview at the bottom for more insight into the Bradshaw's first holiday without Grace and a for a few hints from executive producer Amy B. Harris about how they will handle it. Will they end up eating Chinese food after all?