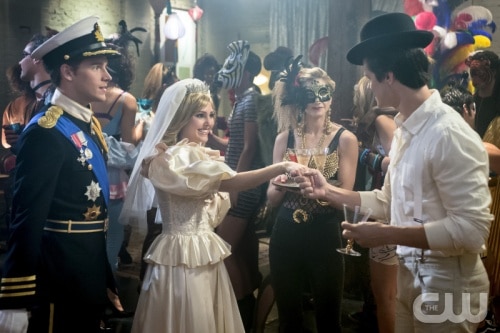 The break-up between Carrie and Sebastian last week on The Carrie Diaries came as quite a shock to Carrie, considering how she didn't think she did anything wrong by snooping into his legal file and telling him that she was okay with its contents. Now things are awkward between the two, particularly around school where Carrie has to avoid him, and that will certainly make the social scene around Castlebury that much more of a minefield in the upcoming days and weeks. When Halloween rolls around, Carrie has to get out of town to get her mind off of everything going on, but will she really have her mind off of Sebastian?
On the next episode of The Carrie Diaries, Carrie and Walt head to the city to join Larissa at a loft party, while Mouse and Maggie are sent by Carrie to a local party thrown by Sebastian to keep an eye on him. The city party goes awry pretty quickly with Larissa taking too much LSD and Walt getting uncomfortable due to the actions of a fellow partygoer, though surprisingly, Sebastian has a good party and connects with Mouse. She had been vehemently opposed to Carrie being with Sebastian from the time his legal record was brought up, but once the two begin getting to know one another and he opens up, Mouse might come out Sebastian's biggest defender.
Elsewhere on The Carrie Diaries, Dorrit gets caught trying to sneak out of the house and has to spend the evening with her father. However, it goes much better than either of them thought it would. Could this help their relationship continue healing?
The Carrie Diaries airs Mondays at 8:00 on The CW. You can check out a recap of the most recent episode here, as well as descriptions of the next three episodes here and here and photos from the next episode here.
Aside from having to take care of Larissa, how will the loft party go for Carrie and Walt? Will having the extra time together make Mouse more sympathetic toward Sebastian? What do you expect from Dorrit and Tom's evening in?
http://www.youtube.com/watch?v=HPS09P7KaIA
http://www.youtube.com/watch?v=VnJkcoXNY-I
http://www.youtube.com/watch?v=-GaiFJ6gM0U