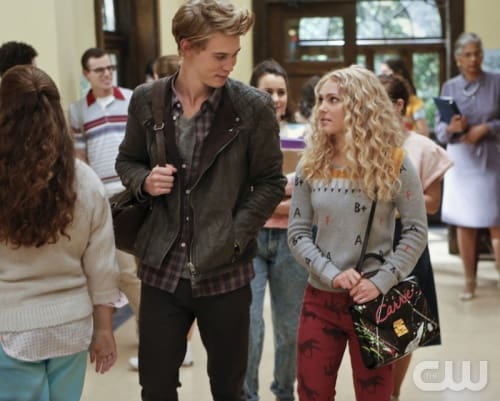 On The Carrie Diaries, things look to be improving for Carrie Bradshaw. Although the pain of losing her mother is still very raw, she has a new love interest in Sebastian, the rich kid from the swim club, as well as a chance to live her fashion dreams thanks to Interview Mag's Larissa Loughton. With her father taking a huge step toward accepting that his wife is gone at the end of the pilot, her strained home life is quickly catching up to her booming personal and professional lives, but what happens when things take a turn for the worse?
Next week on The Carrie Diaries, Carrie has to deal with the thought of Sebastian losing interest in her. Donna LaDonna is circling the bad boy like a shark in chum-covered water, while Carrie is still grounded for breaking her curfew the night of the dance and there's still the matter of her having a lot on her plate with the internship and friendship with Larissa. As a result of her paranoia, Carrie decides to make time to see Sebastian, only she has to lie to her father and bail on plans with Dorrit in order to get out of the house. While it's important for Carrie to spend time with Sebastian, her home life has only recently gotten more stable and risking undoing the progress that's been made maybe isn't the best idea.
Elsewhere on The Carrie Diaries, Larissa wants to do the shoot with Carrie's purse, while Maggie and Walt grow further apart due to his reluctance to have sex.
The Carrie Diaries airs Mondays at 8:00 on The CW. You can check out a recap of the pilot here.
How do you think the shoot for Interview will go? Can Carrie keep Sebastian's interest, despite Donna, being grounded, and having a full plate? Will Dorrit be able to forgive Carrie for bailing on her?
http://www.youtube.com/watch?v=cnmap_8qiYU
http://www.youtube.com/watch?v=p-5KBs8tJps