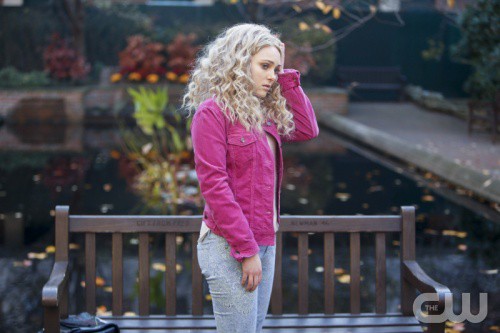 It would be very easy for Carrie to try to act older than she is in order to impress Larissa. The sheltered Connecticut teenager has been dreaming of being in the fashion industry and now that she has a pretty important connection, she must do everything in her power to keep Larissa in her life. Thus far on The Carrie Diaries, that's meant sneaking out from work and letting Interview use her bag for an important shoot, but what would happen if she gets confronted with an opportunity to do something a little more racy?
On the next episode of The Carrie Diaries, Carrie's worlds have collided, as Larissa has invited Carrie, Mouse, and Seth to go to an outrageous new performance art club in the city. Once there, though, things become uncomfortable and Larissa tries to get Carrie to flash people in the club. If Carrie let her desperation to be a glamorous adult get in the way of her reality as a fairly innocent teenager, she would do it and hope that it made her look cooler to Larissa. But Carrie decides not to do it and owns her power in a different way than Larissa had intended, but one that is arguably more important.
Elsewhere on The Carrie Diaries, Maggie begins the process of healing following her break-up with Walt and finds solace in Dorrit, while Carrie finds out the real reason that Tom banned her from dating Sebastian. What's surprising, though, is Sebastian's reaction to being confronted with the secret information.
The Carrie Diaries airs Mondays at 8:00 on The CW. You can check out a recap of the most recent episode here.
Do you think that Carrie should have done what Larissa asked? Is Larissa right in asking Carrie to get a little wild? How often will Carrie's lives as a high school junior and an aspiring fashionista intertwine?
http://www.youtube.com/watch?v=fFmRzSoUp0Q
http://www.youtube.com/watch?v=iKHSEf_1FS0