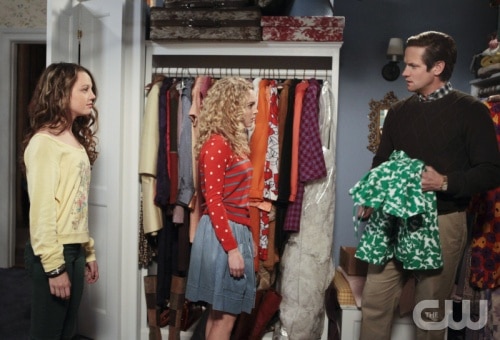 Life for Connecticut teenager Carrie Bradshaw will never be the same. Her mother passed recently, creating a very tense, heavy home life with a rebellious little sister and a well-intentioned but clueless father to deal with. It might get to be overwhelming for the young girl, having to face the perils of being a teenager without someone there to help her along, but coming up on The Carrie Diaries, her life will undergo another series of changes – this time, for the good.
Listed below are the dates, episode titles, and episode descriptions for the first two episodes of The Carrie Diaries.
Monday, January 14th – "Pilot"
Recently, life hasn't been smooth sailing for 16-year-old Carrie Bradshaw (AnnaSophia Robb) – her mother just passed away, her rebellious younger sister Dorrit (Stefania Owen) is acting out, and their father Tom (Matt Letscher) is struggling to raise two teenage daughters alone. As Carrie begins the first day of her junior year, she can't help but feel as though all eyes are on her, and a pity party from rival Donna LaDonna (Chloe Bridges) doesn't help the situation. Even when surrounded by her group of friends, Mouse (Ellen Wong), Maggie (Katie Findlay) and Walt (Brendan Dooling), Carrie feels as though her life should be heading in a different direction. The arrival of new guy Sebastian Kydd (Austin Butler) brings Carrie some excitement, but it isn't until she accepts an internship at a Manhattan law firm that things begin to fall into place. In the city, Carrie meets Larissa Loughlin (Freema Agyman), a free-spirited, outgoing style editor at Interview magazine, who introduces her to a world she's only dreamt of.
Monday, January 21st – "Lie with Me"
New couple Carrie and Sebastian can't seem to catch a break. Between being grounded and rival Donna's sneaky attempts to break them apart, Carrie worries Sebastian will lose interest in her. Desperate for some alone time with him, Carrie must lie to her father and bail on plans with her sister Dorrit. Maggie's obsession with having sex drives a wedge between her and Walt. Meanwhile, Larissa wants to do a photo shoot with Carrie's purse for Interview magazine forcing Carrie to scramble to make it work.
The series premiere of The Carrie Diaries airs Monday, January 14th at 8:00 on The CW. You can check out sneak peeks from the premiere here, as well as two additional previews here and here.
http://www.youtube.com/watch?v=NSBoOcIghBo