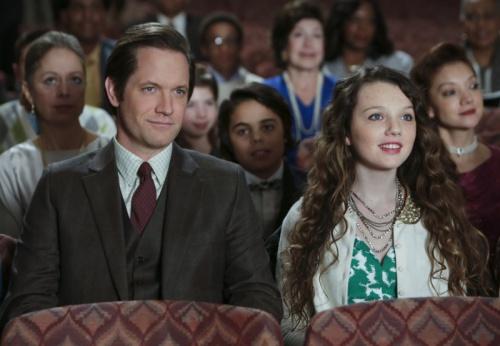 This week's all new episode of The Carrie Diaries leaves Carrie and her friends with a lot of choices to make. Choices that may have a huge affect on their futures. Will they choose wisely?
Caught Between Two Worlds.  Carrie's paint splattered purse is finally making its debut in Interview Magazine and when Carrie helps Larissa come up with the perfect caption for the article as well as a brilliant idea for the next photo shoot, Larissa offers Carrie a job. The problem is Larissa still doesn't know that Carrie is just a kid doing her New York City internship only one day a week. And Carrie feels guilty even thinking about leaving a job that her dad set up for her, especially after learning how much work had gone into getting her the position. How will she choose?
Caught Between Two Boys.  Carrie's relationship with George seems to be on just the right path. He wasn't freaked out by her Thanksgiving freak out and has even agreed to attend the school dance with her. However, Sebastian's holiday stop-over at Carrie's has her thinking about him again and not just as a friend. Judging by his jealousy at the dance, Carrie isn't the only one with residual feelings. But Sebastian is still with Donna and she'll do anything to keep her claws in him. Will Carrie have to choose between him and George or will the choice be made for her?
Choosing Between the Present and the Future.  Mouse is horrified by her first B+ test grade after she fails to study properly for the exam while spending a weekend with Seth. After stressing over it she is able to convince her teacher to let her make up the grade but it means doing school work at the dance. When even that doesn't work and she finds herself in an entirely different kind of trouble, she has to decide how to move forward with her B+.
Choosing to Let Go.  While Carrie is busy at the school dance, Dorrit is forced to attend her annual viewing of the Nutcracker Ballet with Tom.  It's not at all what she expected, especially after attending so many years with her mother. Tom doesn't understand what Dorrit is hoping for and until he explains, Dorrit doesn't understand where Tom is coming from either. Will they find an understanding in time to enjoy the show?
"Caught" is a great episode, highlighting all that should be loved about The Carrie Diaries. Growing up is all about making difficult choices regardless of the music or the fashion. On this show, the music and the fashion just make it that much more fun.
See below for a preview of the latest episode of The Carrie Diaries from Executive Producer Amy B. Harris. 
Don't miss an all new episode of The Carrie Diaries on February 25, 2013 at 8:00 p.m. ET/PT on The CW.
http://youtu.be/lVAqmAxbE4g