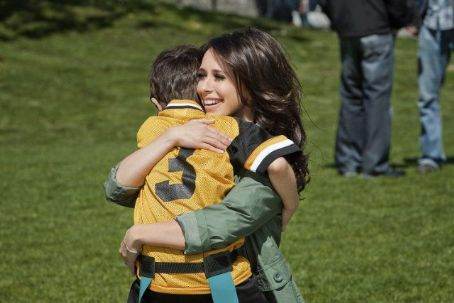 Secrets are the theme of Lifetime's upcoming The Client List and they're featured prominently in the latest promo for the drama, set to premiere in April.
It's the first actual footage we've seen from the show, though it's not a whole lot to work with at around 30 seconds. However, it's enough to tell the vibe of the show and help you visualize what an early episode of The Client List looks like. Well, minus Jennifer Love Hewitt covered in shadows and ominous red/white text.
At least, I think.
Based on the 2010 TV movie of the same name, The Client List follows a single mother in the middle of a divorce who's trying to find a job in a tough market. After getting hired on at a spa, she comes to a crossroads, in that the spa offers more than manicures and mud baths to its clientele. She has children to support and no other prospects on the horizon, but can she bring herself to provide certain services required of her? And how, in a small town, can she keep the news of her occupation from entering into the local gossip mill?
The Client List premieres Sunday, April 8th at 10:00 on Lifetime. You can check out two other videos, including star Jennifer Love Hewitt performing her rendition of "Hey Big Spender", right here.
What do you think about the new promo for The Client List? Do you think you'll check the show out when it debuts? Did the little joke at the end of the clip make you laugh? (Spoiler alert: I did and then I sighed in relief at the show embracing a sense of humor.)
http://www.youtube.com/watch?v=J5HJr50x9RA