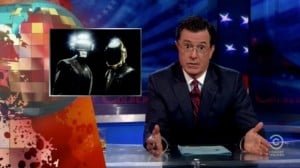 Stephen Colbert is awesome. I am sure all the world knows this, but they will only know it more after seeing this video. You see, Daft Punk were supposed to show up to a taping of The Colbert Report this week (as I reported last week) and they were a no-show. While this is a big no-no in the industry, the brilliant Colbert made the best of it anyway, and did a pretty fantastic dance-off to Daft Punk's Summer hit, Get Lucky, featuring a great many cameos from stars you love.
So in essence, when you diss Stephen Colbert, he lets you know you are far less important to him, and that he has tons of famous stars who are more than willing to step into your shoes and help him achieve his goal, which in this case is dance his butt off to Get Lucky. Be prepared, if you like him, you are about to like him that much more.
The Matt Damon booth was pretty awesome, you gotta admit.
So no matter what happened with Daft Punk regarding why they didn't go, it honestly looks like Colbert had more fun dancing with his friends, anyway, so we guess things happen for a reason.