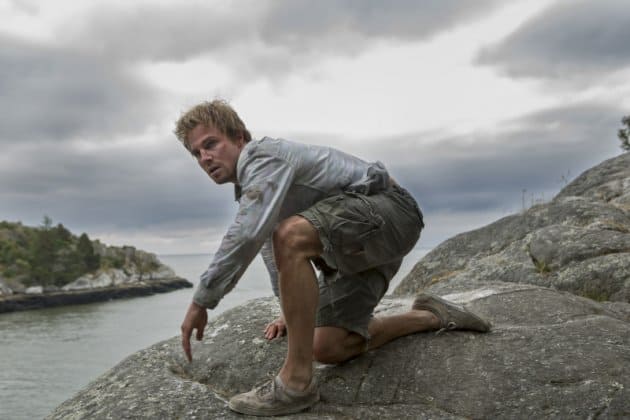 Last night's episode of Arrow showed us that Oliver most definitely wasn't alone on the island.  In one of the final scenes, we saw him burying his father and – moments later – being shot by an arrow.  An arrow that came from a man wearing a costume similar to Oliver's present day Arrow outfit.
A commenter on my recent Arrow recap said that they think Deathstroke was the man on the island.  As it turns out, they were partly right.  According to The CW, in the upcoming fifth episode we'll see that Deathstroke was on the island with the marooned billionaire: "After Detective Lance (Paul Blackthorne) arrests Oliver (Stephen Amell) for murder, Oliver tells Moira (Susanna Thompson) the only lawyer he'll allow to represent him is Laurel (Katie Cassidy). Laurel takes the case which puts her at odds with her father. Oliver offers to take a polygraph in front Detective Lance but things get tense when Lance asks him if anyone else was on the island with him. Oliver flashes back to when he got his first scar, courtesy of Deathstroke (guest star Jeffrey Robinson)."
Judging by the photos for the episode, the man in the green hood was Yao Fei, who seems to take Oliver under his wing.  But Deathstroke seems to capture Oliver and do all manner of terrible things to him.  What – exactly – happened on that island?  We'll have to wait until the November 7th episode of Arrow to find out!