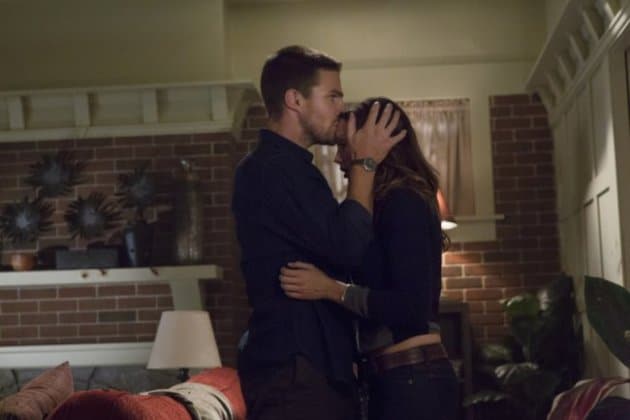 At the New York Comic Con panel for Arrow, a highlight reel was unveiled that featured footage from the first nine episodes of the new CW superhero drama. In the 2:19 sneak peek (watch below), we get glimpses of several important members of the DC Comic world, most of whom are looking to take out the Arrow before he can make progress on his search for justice.
Included in the reel are Well Dressed Man (played by Doctor Who star John Barrowman), seen in the back of a limo with Moira Queen; China White (played by Kelly Hu), who makes her first appearance on the next episode; Deadshot (played by Michael Rowe), nearly taken out by the Arrow in a surprise attack; Deathstroke (played by Jeffrey Robinson), holding a man hostage before having to fend off the Arrow; and The Huntress (played by Jessica De Gouw), herself lurking in the shadows of Starling City.
Next week on Arrow, Oliver attempts to get his death certificate repealed, though he runs into a criminal that has ties to the Chinese Triad and whose name is in the book that his father gave him. While the Triad comes after Laurel in order to get to the Arrow, Oliver is asked to take over the company by Moira and Walter. Will he want to take on that much extra responsibility? Or will the power that comes with being in control of his father's company put Oliver closer to his father's enemies and, therefore, closer to exacting vengeance?
Arrow airs Wednesdays at 8:00 on The CW. You can check out a recap of the well-rated pilot here, as well as a preview of the second episode here and photos from the third episode here.
How did you enjoy the pilot episode of Arrow? Which character's introduction are you most excited to see? Are there any other DC characters that you'd like to see introduced in the near future?