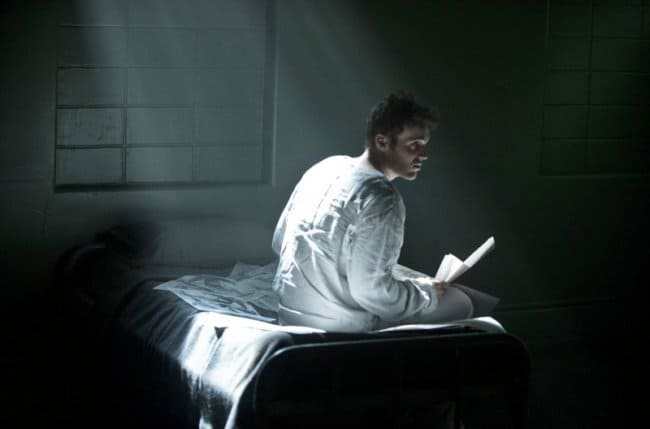 Another vigilante gained prominence in this week's Arrow. A man calling himself "The Savior" started kidnapping people who he believed betrayed the Glades or punished its residents. He would broadcast his interrogations of these prisoners on the Internet right before he shot and killed them. Oliver wasn't happy about an unscrupulous vigilante in Starling City and set out to try and track him down, using Felicity to try and pinpoint his location through his live feed.
The Savior ended up coming after Roy and while Thea's budding relationship with him is strained because of her wealth and his criminal connections, she told Oliver he didn't deserve to die when Roy's kidnapping showed up on the Internet. Oliver tracked down Roy and the Savior (Joseph) in the old subway system, but despite pleading with Joseph's moral side, he couldn't convince the man to let go of his revenge and was forced to shoot him. Roy returned to Thea, who was overjoyed to see that he had survived.
The Lance family also had an emotional storyline this week when Laurel found the girl who was supposedly the "Sara" in her mother's photograph. But despite the setback, Dinah isn't ready to believe that Sara is dead and insisted her daughter is alive. She also had to confess how she knew Sara had her Starling City cap with her: she saw Sara the day she left with Oliver and kept it a secret all of these years from Laurel and Quentin. Despite Laurel feeling betrayed by the secret her mother kept, she also told Dinah to keep in touch when she left to return home.
Moira was also forced to hand over her friend and co-conspirator, Chin, to Malcolm when he came close to discovering that she had ordered the hit on him. She managed to convince Malcolm not to kill Chin's daughter, but it's clear she's wracked with guilt over what she did.
Seth Gabel returns as The Count in next week's episode.  Apparently Vertigo is still circulating the streets of Starling City and when a young woman dies with the drug in her system, Oliver heads to the mental institution to visit the Count.  But he's not in any condition to deal drugs in his present state.  Later, the Count escapes and the violence and drugs in the city escalates, so Oliver and Diggle make it their mission to capture him again. Detective Lance also uncovers some incriminating evidence against Tommy, who then goes to great lengths to try and clear his name.
Watch a preview below for the April 3 episode of Arrow on The CW.  You can also browse through photos for the episode below the video.
http://youtu.be/vMezChR7fr0