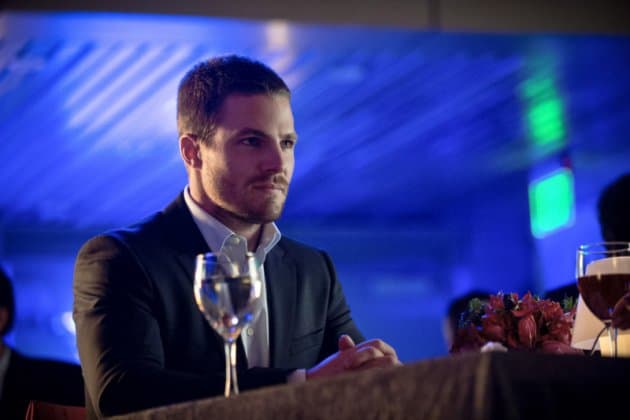 This week's Arrow was basically flashback central after Oliver was shot by Moira for bursting into her office and confronting her as the Arrow.  After escaping, he approached Felicity for help and she brought him back to Diggle so they could save his life.  While he teetered on the brink of death, Oliver kept flashing back to his early time on the island.  Specifically, the turning point for him: an escape attempt with his new pal Slade Wilson.  After being whipped into shape by Slade and given some basic training, the pair teamed up to try and work their way onto a supply plane in order to leave the island.  But Oliver refused to leave Yao Fei behind and a botched rescue attempt by him resulted in a missed plane and a knock-down fight that ended with Slade killing Deathstroke.
In next week's episode, Teen Wolf star Colton Haynes guest stars as a pickpocket who steals Thea's wallet while she's working at the Legal Aid Clinic with Laurel.  And despite her reluctance to join Diggle and Oliver in their crusade beyond looking for Walter, Felicity is going to be thrown into the deep end.  Meanwhile, a jewel thief named Dodger starts making his mark in Starling City.
Watch a sneak peek below for the February 20 episode of Arrow on The CW.  You can also browse through photos for the episode here.
http://youtu.be/2JoRssYkiTk