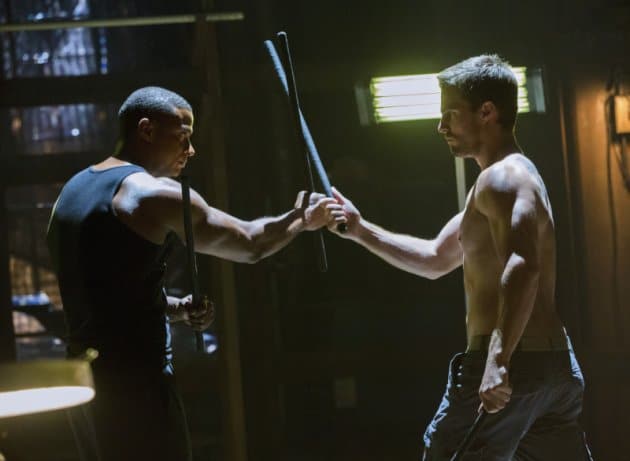 Diggle is the only one who currently knows about Oliver's secret identity on Arrow.  While he supports him in his effort to clean up Starling City, the two of them don't always see eye-to-eye.  Diggle is repeatedly trying to get Oliver to focus on broader public service instead of just focusing on the list his father gave him.
But it looks like one of Oliver's upcoming targets will cause some new friction between the pair.  In the January 23 episode they are at odds with one another and Thea has some suspicions about Malcolm: "The next person on Arrow's (Stephen Amell) list is Diggle's (David Ramsey) commanding officer and mentor from Afghanistan, Ted Gaynor (guest star Ben Browder). Oliver suspects Ted is responsible for recent armoured truck robberies, but Diggle defends Ted and takes a job at Ted's security company to keep an eye on him. Oliver decides to make a move on Ted, which puts him at odds with Diggle. Meanwhile, Thea (Willa Holland) suspects that Moira (Susanna Thompson) is having an affair with Malcom (guest star John Barrowman). Tommy (Colin Donnell) and Laurel (Katie Cassidy) have an awkward dinner with Malcom."
Arrow returns from winter hiatus on January 16.  Watch a preview for the new episode here.