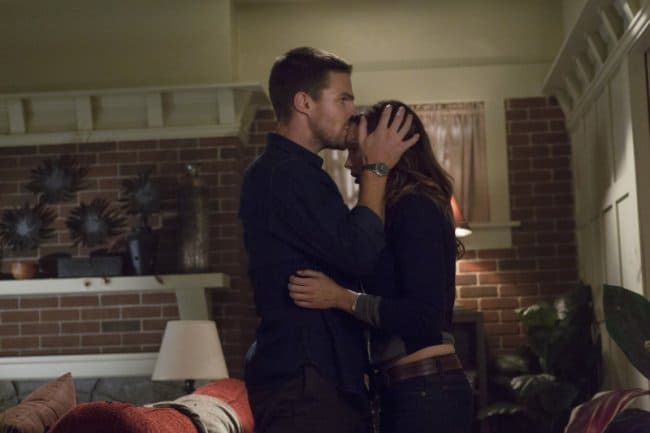 Let's be honest, what's a good drama – even a good superhero drama like Arrow – without a love triangle?  Make no mistake, the show is very much about Oliver Queen's journey to become a vigilante for justice, but that doesn't mean he doesn't have personal ties.  One of those ties involves the lovely Laurel Lance, an attorney with Starling City's legal aid clinic who used to date Oliver back when he was a careless playboy.  That relationship ended when Oliver absconded with Laurel's sister, who later died when his family's yacht capsized during a terrible storm.
After arriving home it's clear that Oliver still loves Laurel, perhaps even more than he did when he was younger since he's had a long time to grow more mature during his 5 years on the island.  But Oliver pushes Laurel away after he realizes that his new vigilante lifestyle isn't good for her.  By the end of the pilot episode we realize that this will-they-or-won't-they duo is actually a love triangle, because Laurel actually slept with Oliver's best friend Tommy when they both believed Oliver was dead.
During a recent visit to the Arrow set in Vancouver*, stars Stephen Amell (Oliver Queen), Katie Cassidy (Dinah "Laurel" Lance) and Colin Donnell (Tommy Merlyn) talked to a group of journalists about the show's epic love triangle.  Don't expect to see a high school love triangle play out on Arrow.  This is a far more grown-up show, and while there's clearly unresolved feelings on both sides, the players involved will be more adult about it.  As Colin explained, "It's a very adult love triangle. It's three people who completely understand what's going on in their lives and we're all adults. Oliver has his secrets and Tommy and Laurel…everybody's just trying to figure it out. Obviously they have so much history and love for each other that that's a problem. But there's as much love between Oliver and [Tommy] and there's as much love between Laurel and [Tommy] as well. So it's three people who are very adult about the situation but it's a difficult one to try to navigate."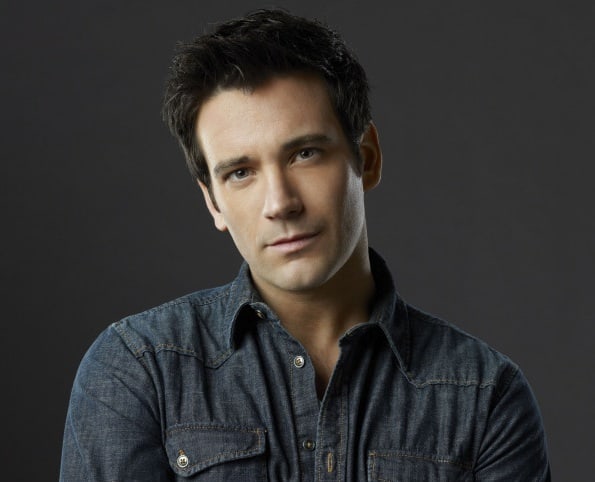 Team Tommy.  Colin made the case as to why Laurel should end up with Tommy, even if he seems more like the playboy Oliver used to be: "I think Tommy very much cares about Laurel. They took comfort in one another and solace in each other's arms while trying to deal with the death of a friend and there are a lot of feelings that Tommy is not used to experiencing with women that are percolating there. And Tommy is a good guy. I know it doesn't seem like it right now. But I think what's cool is that everybody has the capability of being a good guy. And I think Laurel can see that in Tommy in some shades of grey and there may be some fun stuff coming up that shows a different side of Tommy than what we've seen in the pilot."
Colin said that the news that Laurel and Tommy slept together more than once will actually come out pretty quickly and that Laurel will have a tough choice to make because it's clear that both men are good for her.  In fact, as Colin pointed out, "I think Tommy has a way of providing Laurel with all the things she can't get from Oliver because of what he is and what has become. And when you see that other side of Tommy — why wouldn't you want Laurel to be happy? I think he's capable of [helping her with that]."
The ultimate question, of course, is who should win Laurel's heart in the end.  To which Colin replied: "Tommy! What kind of question is that? I think it's going to be fun to see what ends up happening. It's going to be a tough decision whenever it comes. Because of their history, it's very difficult because Tommy is going to show that he can actually man up. People are going to enjoy rooting for both of us. I hope they root for both of us. I hope! It would be a shame if they all rooted for Oliver and nobody rooted for Tommy. Is there going to be a Team Tommy?"  And when asked whether Oliver coming back from the dead means that he's got a leg-up on Tommy, Colin cheekily replied that "I have a total advantage. But on the other hand, [Oliver] kinda wins. He came back with the abs!"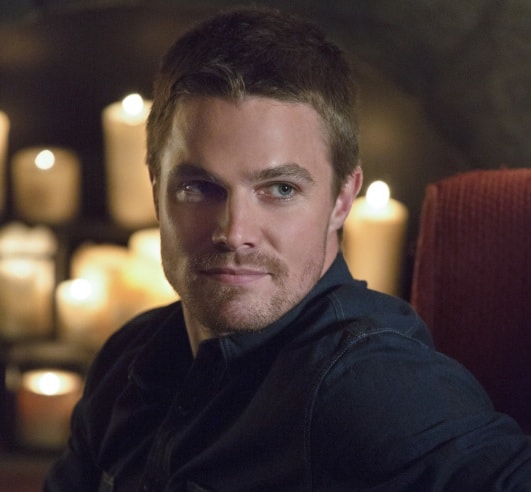 Team Oliver.  On the other side of the love triangle is the guy with the abs, who is a bit more selfless when it comes to Laurel, as Stephen Amell hinted: "As Oliver, if I'm being truthful, I know what I did to Laurel and I know how important Tommy's friendship is to me and if the best way for both of them to be happy is with each other, then I wouldn't stand in the way.  That doesn't change how I feel, so that has all the makings of a really good love triangle."  Stephen actually went on to make the case for Tommy, insisting that he's a decent guy and that "we see Tommy in the pilot as this swashbuckling, carefree individual, and as we move through the series we get to see a real substance in him.  And that our friendship is important."
Still, don't expect Oliver to just leave Laurel alone, no matter how much he pushed her away in the pilot.  In fact, Stephen hinted that the pair might jump back into bed sooner than you would expect: "Oliver is saying he's not very good for her but one of the things that he's dealing with is that he's lonely.  There's not a lot of people…excuse me, there's nobody…for him to talk to, save us introducing a volleyball into the show.  As for Laurel, he does know that he's not good for her, but, at the same time, it would cease to be a compelling relationship if they didn't continue to cross paths.  There's so much history there, [so] we see the two of us together."
Who Will Laurel Choose?  Katie Cassidy was clear that there's a case to be made for both leading men in Arrow and that they both bring something good – and bad – to Laurel's life: "The three of them go back since they were children, and they've been very close. After Oliver was assumed dead, Laurel and Tommy leaned on each other. Obviously they got very romantically involved a few times, which to Laurel was just sort of a lapse, as she says during the pilot. But to Tommy, I think he really cares for Laurel, and he's willing to go to extremes to show her how he feels. Between Laurel and Tommy, I think she's more fun; it's lighter. But I do think that Oliver is the love of her life. I feel like with Oliver it's a lot more intense; there's a lot more passion and fire and a lot of emotions, obviously, that come up when she's with Oliver. When she's with Tommy, you just get to see more of a sexy and fun, wild side to Laurel."
Despite the fact that Oliver pushed Laurel away for her own good in the pilot, the attorney isn't easy to get rid of.  "Laurel is a smart girl. I think she knows what he's doing. It pisses her off, you know? I think she is trying to tell him to snap out of it. She's trying to really speak to him and tell him 'I know who you are; this isn't who you are'. And he keeps putting up this guard and this front of, in my opinion, that's again not true to himself, and she's trying to get him to be true to himself. I think she sees right through him, but I also think she gets extremely offended that….you know, he's being a douchebag."  And, it turns out, Laurel isn't the only one who is trying to reignite something with Oliver, because he keeps popping up in her life.  "Well, he sort of pushes her away and then shows up at her work and at her apartment and sort of can't stay away from her. It's sort of a push and pull between the two of them. They both really care about each other; it's very real between the two of them. Aside from the tragedy that happened, they can't help themselves. It's two people that are just drawn to each other."
Will Oliver and Laurel be the Arrow endgame?  We're going to jump right into more of the love triangle in the second episode, according to Katie.  Whatever happens, I think we're in for one heck of a romantic – and action-packed – ride.
Don't miss all new episodes of Arrow on Wednesdays at 8:00 p.m. ET/PT on The CW.
*Travel and accommodation provided by Warner Bros. Television
[FLOWPLAYER=http://www.tvovermind.com/wp-content/uploads/2012/10/arrow-love.jpg|http://www.tvovermind.com/wp-content/uploads/2012/10/arrow-love-triangle-Clip1.flv,440,280]