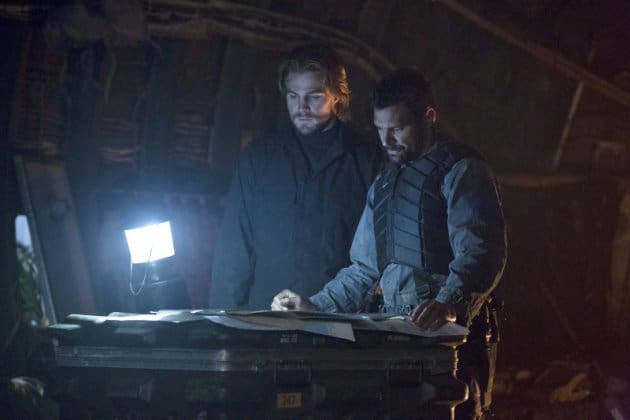 This week's all new Arrow is a terrific episode that blends tense life-or-death situations with crucial backstory.  Here's a few things you can expect in "The Odyssey".
The Awesomeness of Felicity Smoak.  Is Felicity one of the coolest characters on Arrow?  If you didn't think so before, you will after this episode.  When confronted with a bleeding Arrow in the backseat of her car – who soon reveals himself as Oliver – she quips "Oliver?  Oh, wow.  Everything about you just became so unbelievably clear."  At his insistence, Felicity delivers Oliver to Diggle and, despite her squeamishness, teams up with Diggle to perform a minor operation and save Oliver's life.  Fortunately for the two men, there is rarely a problem Felicity can't fix, even when it comes to a faulty defibrillator.  And she has a conversation with Diggle that gives us a better understanding of why he has decided to team up with Oliver as well, flushing out his motives in a quiet way.  But here's the big question: now that she knows the truth is Felicity in the vigilante club or is she out?  You'll have to tune in tomorrow to find out!
Oliver's Odyssey.  This episode tells the most complete tale of Oliver's time on the island to date and also covers an important period of time: the events that really transformed Oliver from the man he was to the man that he will become.  We know that Oliver teamed up with Slade Wilson after escaping Fryers and now the two men are trying to get off the island on an incoming supply plane.  Slade is doing everything he can to turn Oliver into a soldier in a short amount of time so that he can perform a crucial part of the mission: taking out a key man.  How does Oliver do?  So-so.  But the biggest test of who Oliver is comes when Slade reveals his plans for the island once they leave and Oliver announces with the utmost resolve that he refuses to leave Yao Fei behind after taking advantage of people his entire life.  Technically, we know how this story ends for Oliver, but that doesn't mean the journey isn't thrilling.  We get important backstory on Yao Fei and Fryers and get to witness a knock-down fight between two former friends.  By the way, there's a little Cast Away joke in there for those who want a good chuckle.
The Question of Moira's Motives.  Despite the fact that Moira is the one who shot Oliver and had "the list", he's not sure whether his mother is actually guilty of any sins.  But Diggle…Diggle isn't sure she can be trusted.  It's clear that this may be a point of contention between them going forward.
Don't miss an all new episode of Arrow on February 13 at 8:00 p.m. ET/PT on The CW.
http://youtu.be/DkcB5ZzYs3c