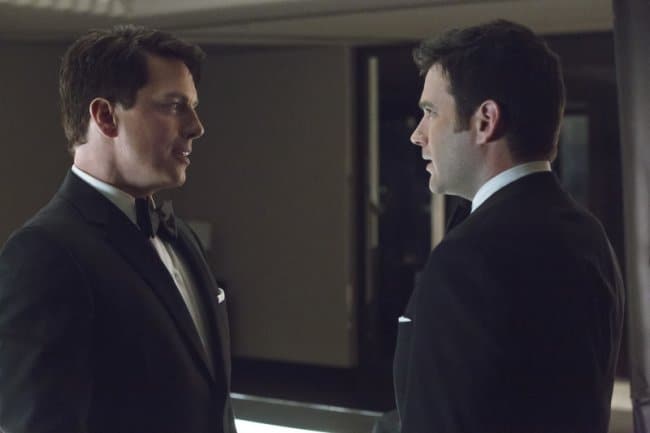 The Merlyn men are heavily featured in tonight's new Arrow in an episode that delivers action, drama and non-stop OMG! moments. 
A Devious Plan.  Moira has committed herself to getting rid of Malcolm and called in China White to help, but she'll soon learn that killing Malcolm is not so easy.  The first hired assassin brought in by China is promptly disposed of by Oliver, which leads China to bring back an old foe: Deadshot.  Now that the expert sniper is in town, Malcolm's chances of getting shot have increased dramatically.  But Oliver, Felicity and Diggle are determined to figure out the assassins' target, which begs the question: how long can Moira keep up the duplicity? 
Emotional Tommy.  It's Young Mr. Meryln's birthday and he's celebrating with a quiet dinner with Laurel, Oliver and McKenna.  But the festivities are interrupted by Malcolm, who stops by with a birthday present and to issue an invitation for Tommy to join his father at an upcoming awards ceremony.  Tommy is having none of it, too angry about his father's lack of involvement in his life thus far to even bother trying anymore.  But this reluctance on Tommy's part leads to a sweet conversation between Tommy and Oliver about their fathers and their respective flaws and Tommy decides to support his father by attending.  What's interesting is that Malcolm's first instinct when the ceremony is invaded by China's goons is to protect his son.  Can the Merlyn men mend their broken fences, or are there too many secrets between them?
Laurel's Past.  It's not really a spoiler to say that Laurel's mother will be turning up on the show since news already broke that Alex Kingston will be playing Dinah Lance.  It's also not surprising to hint that Laurel isn't eager to talk to the mother that left her family so long ago.  What is surprising is what Dinah's arrival to the show could mean for Laurel's journey.
Island Radio.  The flashbacks to the island show us Slade and Oliver after their failed escape attempt.  Slade seems resigned to their future on the island, but Oliver is desperate to find another way.  A broken radio gives him an opportunity to focus, but even success doesn't necessarily mean a way off the island.
Watch a sneak peek and writers' preview below for Arrow and tune in tonight at 8:00 p.m. ET/PT on The CW.
http://youtu.be/AqLM8biW_lM
http://youtu.be/LsbsFCB24CI