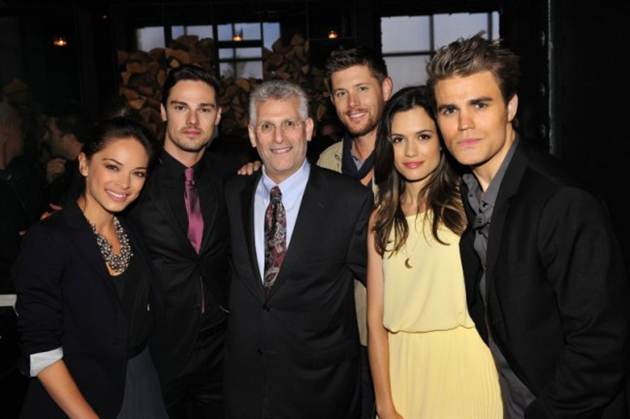 Yesterday The CW presented its 2012-2013 primetime schedule to press and advertisers in New York (see photos from the presentation). Last night, the stars of The CW shows (old and new) came out to celebrate next season.
Stephen Amell and Katie Cassidy were there to celebrate their new superhero show, Arrow (watch a preview), which will be paired with Supernatural on Wednesday nights. Speaking of Supernatural, stars Jensen Ackles and Jared Padalecki came to the Upfront presentation for the first time in many years and Jensen was photographed at the party. The Vampire Diaries cast – including Ian Somerhalder and Paul Wesley – were also seen at the event.
Mamie Gummer and Justin Hartley were in attendance to promote their new show, Emily Owens, M.D. (watch a preview), while former Smallville star Kristin Kreuk and actor Jay Ryan were in town to show off the modern CW take on Beauty and the Beast (watch a preview).