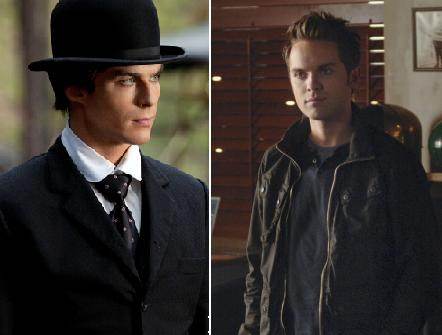 The Vampire Diaries and The Secret Circle both return with all new episodes tonight after a short hiatus. The CW is celebrating the return with this sexy new trailer for its Thursday night line-up, featuring both old and new scenes from both shows. Here's what you can expect from tonight's episodes:
The Vampire Diaries: Tonight's episode will flash back to 1912 and introduce us to a woman who was very important in Damon's life: Sage (guest star Cassidy Freeman). When we first see Damon, he and Stefan have been separated for 50 years. Damon is still angry about the fact that his brother's actions turned them both into vampires, but Sage teaches him what it is to be a vampire. In essence, she is instrumental in transforming him into the man we first met back in the pilot. Meanwhile, in Mystic Falls, the murder mystery continues to heat up as Sheriff Mills and others search for the killer.
The Secret Circle: Cassie has been reunited with her father, John Blackwell, but his motives are completely in question. He insists that his powers have disappeared and he can be trusted, but it's clear that people like Adam are extremely suspicious of Blackwell. Why has Blackwell really returned to Chance Harbor? Meanwhile, Faye is shocked when she learns that Lee has a girlfriend who has just awoken from a coma and Diana finds herself attracted to a new boy.
Watch a preview below for The Vampire Diaries and The Secret Circle and make sure to tune into new episodes beginning at 8:00 p.m. ET/PT on The CW.