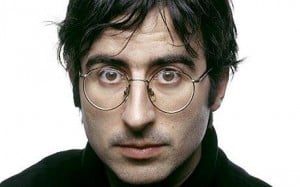 Moment of silence, please. Today marks the last day that John Oliver will be on The Daily Show. So this, for us, is bitter sweet. Every time we get a favorite anchor on The Daily Show, they leave us and move on to greener fields. On the plus side, everyone who has left has gotten really famous, and considering he already had an awesome run on Community back when it was still good, this could bode well for him, but we can't help but feel sad and nostalgic as this great passes through this show one final time.
What was it about John Oliver that made us like him so much? Well, that same condescending charm and wit that made us fall in love with Ed Helms, and Steven Carrel, and Stephen Colbert. That smarmy, smart-guy attitude, somehow paired perfectly with a self deprecating sense of humor that makes The Daily Show work so well, John Oliver is just such a perfect fit for the show.
Plus, he is from across the pond, so he brought a slightly British feel to everything he spoke about. TV Line has a video of what they consider his five best bits, so pop over there and check it out. On a personal level, I think he summed up our dissatisfaction with the fake Megalodon documentary on Discovery better than anyone.
So we bid farewell to another amazing news anchor from The Daily Show, and wish him greener pastures and greater levels of fame than he ever had. And I swear, as I write this, a slow motion tears stream down my face while God Bless America plays, even though he's British.
I actually think he would appreciate the irony of this moment.