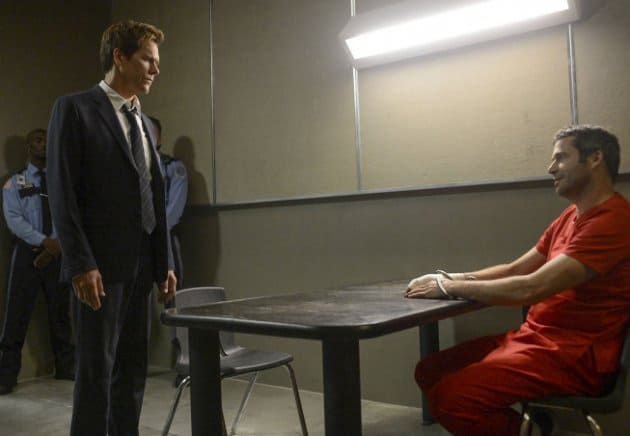 The Following, the much-hyped new thriller from Kevin Williamson, premieres tonight.  Chances are you have heard about this show.  It brings Kevin Bacon to television and pairs him with James Purfoy who plays the creepy and charismatic serial killer Joe Carroll, who has a penchant for murdering young women and a fondness for the work of Edgar Allan Poe.  Years ago, Bacon's Ryan Hardy caught Carroll and saw him shipped off to prison and then retired from active field duty as a result of the injuries Carroll inflicted on him.
But now Carroll has escaped from prison and Ryan is called back to track him down.  When he finds him, he's shocked to learn that Carroll has built up a "following": a group of people who are willing to kill – and die – for their "leader". 
During a recent call with reporters, Kevin Bacon stated that he's been looking to do a television show for a number of years now.  He's recognized that the quality of television shows has been increasing in recent years and he's just been waiting for the right show to come along for him.
The Following, apparently, is that show.  "I felt like the continuing exploration of [Ryan Hardy] and what's eating at him and what makes him tick is [worth exploring]," Bacon explained.   And trust me, there's a lot eating away at Ryan, including residual guilt for not saving more of Joe's victims as well as a general feeling that he is "surrounded by death."  Bacon went on to say that "Ryan is nothing if he's not a guilty person.  He's got a lot of baggage and a lot of that baggage is guilt.  Because [Ryan] stopped [Joe] but not before he killed a lot of people.  He has guilt about a lot of stuff even before Joe came into his life."
There are three aspects of The Following that attracted Bacon's attention and will hopefully also capture the audience.  The first, Bacon said, is the fact that it's a thriller: "It's a tense, fast-paced, exciting thriller that has a lot of moments that are a real surprise.  That's really what hit me when I was reading the script.  I had so many moments of 'Oh my God, I didn't see that coming'."  The second aspect is the "the creepiness" of Joe's cult that Williamson created.  And the third and final aspect is an exploration of these characters and their relationships: "The fact that we're able to go back in flashbacks and get some insight into why they have become who they have become.  The fact that you meet this guy, Ryan Hardy, and know that something's bothering him, but not learn all the details of that in the first episode, is kind of an exciting thing for an actor to peel the layers back."
Ryan's cat-and-mouse relationship with Joe is, perhaps, the most important relationship in the series.  Bacon and Purefoy are deliciously tense when their characters are squaring off against each other.  Sure, the show is about (occasionally) dark and disturbing material, but it's also a series that is primarily a struggle between these two men.
Watch two sneak peeks below from the pilot and tune in to The Following tonight at 9:00 p.m. ET/PT on Fox.
http://youtu.be/TNpociNxqwg
http://youtu.be/KjnCYECxHjg