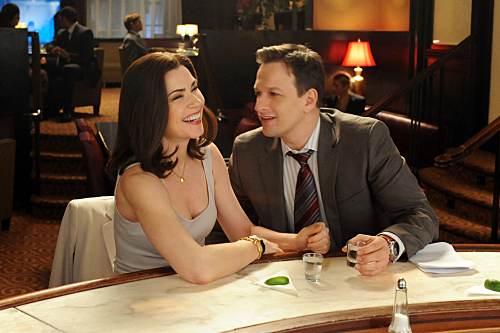 In tonight's new episode of The Good Wife, Alicia told Kalinda she knew the truth of her affair with Peter, and it seems like the relationship between the once-close friends is now broken. But Kalinda – who up and quit Lockhart/Gardner – actually returned to the firm when she found out her new job would have her doing investigations for the State's Attorney's Office (and Peter).
The season finale of The Good Wife will be airing next week on May 17. The air around Alicia and Kalinda will still be incredibly frosty in the season finale, but they're forced to work together to prove their client – who's been charged with murder – is innocent. Kelli Giddish will be returning as Sophia Russo, a lawyer with a connection to Kalinda's past.
But the big question, now that Alicia is separated from Peter, is what will happen between her and Will. Is this the right time for the two of them to get together? And what's in store for the Lockhart/Gardner gang if The Good Wife returns next year? Renewal hasn't been officially announced, but it's likely the show will return.
Below are promo photos for the May 17 season finale of The Good Wife, along with a promo for the episode.
[imagebrowser id=1001 template = flipped]
clarissa @ tvovermind.com
twitter.com/clarissa373
twitter.com/tvovermind