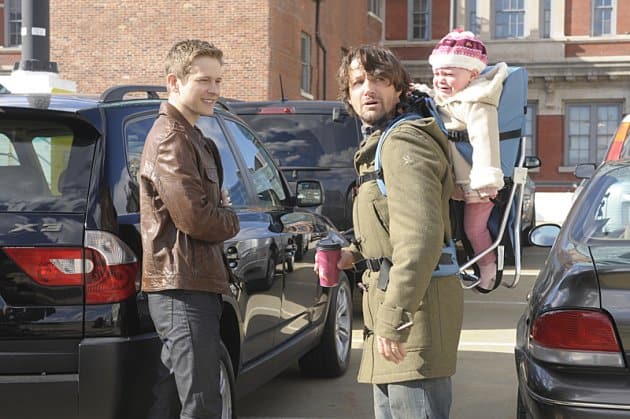 We've seen The Good Wife slip into the moral grey area when defending a client; tonight they will take this one step further as they might aid the prosecution of an innocent man, in order to defend their own client. As we are well aware the firm is in a precarious financial position and so a win in any case at the moment is important, but what is the real cost of getting the 27th floor back? Lockhart Gardner is a mix of idealism and pragmatism and it will be interesting to see which side wins.
The case has Will (Josh Charles) defending a man accused of murder, while Alicia (Julianna Margulies) aids the prosecution in the trial of another man accused of the same crime. The problem here is that their client appears to be guilty, with the other man as the innocent party. As you can see in the promo below Will is adamant about the course of action "We have to represent our client. It's our job." This won't stop Alicia from discussing their options and she will turn to her office mate for advice; Cary (Matt Czuchry), who as we know leans more towards the Diane (Christine Baranski) side of idealism. Alicia is not the same lawyer that we met at the start of season one; she is prepared to do things such as take potential evidence ("Hi"), not report potential fraud that she unknowingly committed ("Alienation of Affection") or look the other way in how they got some evidence (countless Kalinda discoveries). This isn't to say that Alicia will put aside all of her convictions tonight and there is clearly a moral quandary at work.
They will be going up against Laura Hellinger (Amanda Peet) again this week and so if Alicia really does have an issue with how they are proceeding with their strategy, she could in theory slip some helpful evidence to her new friend. Will has something to prove in court as the last time he went up against Laura it got a little embarrassing and personal, so for Will's pride (and for money of course) the win is important.
The King's revealed a few weeks back that they were wrapping up the Nick (Marc Warren) story sooner than expected and tonight will see Nick force Kalinda's (Archie Panjabi) hand; is the end in sight? Nick of course did a dumb thing and got one of his goons to attack Cary. Cary told everyone that his black eye was from a basketball injury, but Nick seems like the kind of guy who can't keep his mouth shut about his 'masculinity.' Cary offered Nick a friendly reminder that he knows people in the SA office and I'm glad that Cary stood up Nick, rather than cowering in a corner. The promo photo that CBS has released reveals a familiar face that Cary is turning to; yep that's right everyone's favorite (or not so favorite- right Will?!) PI Dad, Andrew Wiley (Tim Guinee). Is Wiley the solution to the Nick problem?
Another possible major development in last week's Thanksgiving episode was the Alicia and Peter (Chris Noth) hook-up at the end of the episode. I'm calling it a hook-up as this is what it appears to be, a reaction to Alicia's mother meddling with her decision to not divorcing Peter (can Stockard Channing come back please?). It's hard to define Alicia and Peter's relationship this season and I think this vagueness is an intentional move by the writers. It is also probably the most comfortable that we have seen Alicia and Peter in each other's company over the past four years and maybe this lack of definition helps that. There has been a shift in the power dynamic and I'd say that they are in place now where they are pretty equal; there's no point scoring at the moment. How long it will stay like this is unclear and this lack of relationship status will need to be examined sooner, rather than later as they can't keep telling people that "it's complicated."
It's almost the halfway point of season 4, so what do you think of this year so far?
Watch a promo for tonight's episode "Battle of the Proxies" below.
http://www.youtube.com/watch?v=-5Ivs8XPXCU&version=3&hl=en_US