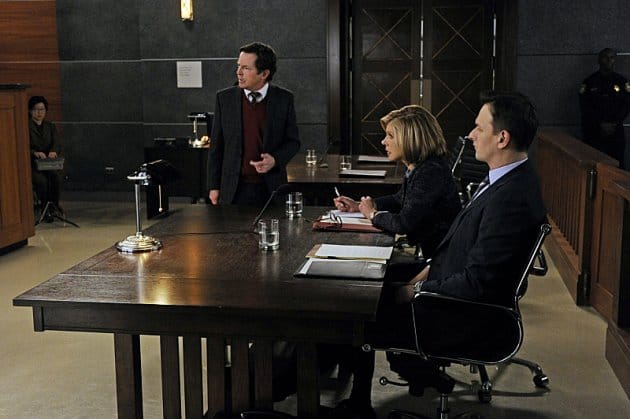 The Good Wife took a break from the financial hardships in the last episode to help out everyone's favorite lawyer Elsbeth Tascioni (Carrie Preston), but tonight they will return to the story that has shaped season 4 so far. That's right, it's time to deal with Lockhart Gardner's new creditor Louis Canning (Michael J. Fox). There is also more campaign conflict to deal with and Alicia has a tempting offer to consider.
While it is good from a story point of view to see Lockhart Gardner with their backs against the wall, this story also needs to move forward; the five week deadline and Canning buying all of their debt will hopefully do this. Nathan Lane's performance as Clarke Hayden has been fantastic (particularly his scenes with Cary) and he will get a chance to shine once again as he continues his quest to get Will (Josh Charles) and Diane (Christine Baranski) removed from their managerial positions. The deadline that Will and Diane were given was not particularly long, but Clarke believes that Will and Diane are hurting his efforts to erase the firm's debts. Clarke is joining forces with Canning and taking them to court to argue against the extension that has been given.
Clarke's motives appear to be pretty honest; he hasn't done anything to suggest that he is working for anyone else and his displeasure with Diane and Will is because they ruined the deal that Clarke had organized to pay off their debt. Louis Canning on the other hand is someone that is hard to read and it is unclear why he has a special interest in Lockhart Gardner. Well, there's one person that he could have his eye on and that is Alicia (Julianne Margulies).
Canning has offered Alicia a job on more than one occasion and tonight Alicia is offered a career changing offer, one that also comes with a financial risk. Is this something that Canning offers or rather something that Will and Diane are tempting her with? The answer could quite easily be both as the promo below suggests, but if one finds out about the other, that could leave Alicia with nothing. Will Alicia remain loyal to Will and Diane?
Lines are being drawn over at Peter's (Chris Noth) campaign, but this is an internal matter that has Eli (Alan Cumming) and Jordan (T.R. Knight) disagreeing once again regarding strategy. This time it revolves around how to handle an attack on Maddie Hayward's (Maura Tierney) campaign. Religion is the topic in question and Eli has Alicia's brief friendship with Maddie to use to his advantage, against both Maddie and Jordan.
Watch a promo below for tonight's episode "The Seven Day Rule."
http://youtu.be/bxaWLV7n56E