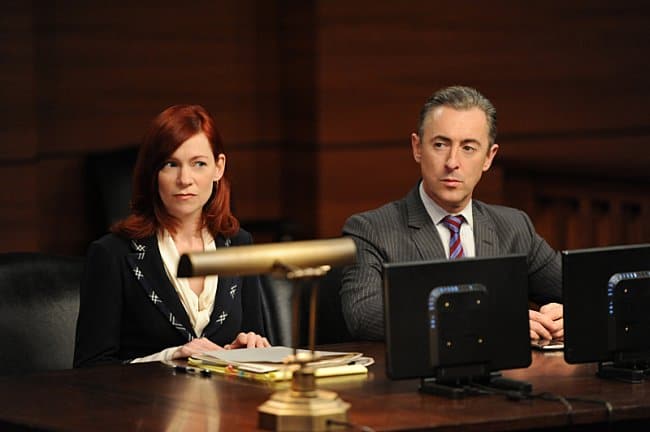 February wasn't too kind to viewers of The Good Wife with only one new episode. Things are looking up however with five episodes airing with no breaks. It helps that the one episode that did air is possibly the best of the season; we moved beyond the Lockhart Gardner financial strife and new conflicts have been set in motion. The investigation into Eli (Alan Cumming) has developed and that is set to continue this week as he faces off with the Justice Department in not one, but two separate courtrooms.
The always wonderful Elsbeth Tascioni (Carrie Preston) worked her magic once again and got some wiretaps thrown out of evidence, this is only round one and the Justice Department has hired a lawyer who might just be as kooky and brilliant as Elsbeth is. Kyle MacLachlan is the lawyer in question playing Assistant U.S. Attorney Josh Perrotti and Elsbeth will be facing up to him once again tonight. The Justice Department refuses to reveal who will be testifying against Eli, so to counter this issue Elsbeth takes Perrotti to civil court for defamation. This is so Elsbeth can force him to answer her questions under oath.
So far Elsbeth has successfully helped Peter (Chris Noth), Alicia (Julianna Margulies) and Will (Josh Charles) and last week she scored a victory for Eli. Lockhart Gardner's high success rate has been questioned, but Elsbeth's has yet to be put under the spotlight and considering who they are going up against this could be a battle that Elsbeth might lose. Carrie Preston is a fan favorite for good reason and part of her charm is that she manages to disarm her opponents and tonight's strategy is following this pattern. Will it be too late to save Eli's job with Peter?
Eli's position as Peter's campaign manager is in a precarious position as he is currently focusing on this case and Jordan (T.R. Knight) is taking this opportunity to assert his authority and show off his impressive campaigning skill set. Jordan is helping with debate prep tonight as Peter will face Maddie (Maura Tierney) soon and this could be the perfect time to show that Eli is no longer needed. Eli is in this mess because he refuses to give up any information on Peter, but this loyalty could cost him his job.
There are other adjustments that need to be made as Alicia has been made an equity partner after all and the other four that were offered the promotion now have to wait another year. Alicia led the fight in the last episode to make sure that their dissatisfaction was heard but now that she has got the title, will she be met with a hostile reaction? Cary (Matt Czuchry) didn't respond in a negative way and understood why she did it, but for a moment I really like the idea of Cary and Alicia teaming up together to create their own firm. The dynamic will change once again, even if there is a level of respect and friendship that was missing when they were first competing back in season one.
One other major event that occurred in the last episode is the kiss between Will and Alicia, a kiss that started as a huge blow-up argument. Pure screaming in each other's faces that led to a brief romantic interlude. What followed was both scolding themselves for letting this happen and a conversation later where Will suggested that they shouldn't be alone together. Alicia's romantic life has been pretty drama free this season so far, she has been having what can be best described as 'no strings hook-ups' with her husband and Alicia has been rather relaxed. This could be a turning point as it could all get a bit complicated when feelings come into play.
Are you looking forward to five episodes of The Good Wife in a row? There are some excellent new guest stars such as Wallace Shawn and John Noble coming up, as well as a whole list of returning faces.
Watch a promo for tonight's episode "Going for the Gold" and to see more photos of Eli under pressure click the link below.
http://www.youtube.com/watch?v=xOpR9xdJnzM&hl=en_US&version=3