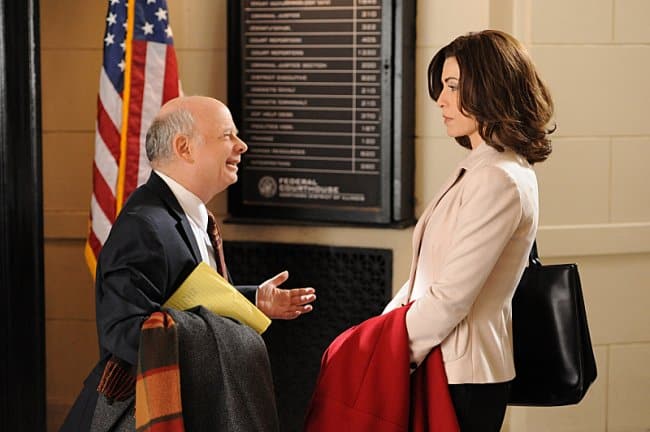 Tonight sees the return of Lemond Bishop (Mike Colter) to The Good Wife as he requests that Alicia (Julianna Margulies) works with another lawyer to help his defense. Alicia is not the only one who will have to team up with someone new, as Kalinda (Archie Panjabi) is forced to train a new investigator. Last time Lockhart Gardner had two investigators it didn't go so well; will this create conflict once again?
Bishop was last seen earlier this season when he was arrested and his defense has been mentioned several times recently, including last week's uneasy conversations between Alicia and Cary (Matt Czuchry). These discussions were tense thanks to Alicia's new promotion as she now has to walk the line between friend and supervisor. Diane (Christine Baranski) pushed Alicia to be tough and this is something that Alicia needs to do, even if she does get called her 'favorite' names behind her back. Cary is ambitious so this is clearly a blow; I just hope it doesn't impact too heavily on the relationship that they have built up over these four seasons. Cary makes a risky move tonight; is this Kalinda related as the promo below suggests?
Wallace Shawn guest stars as Bishop's other lawyer Charles Lester and Alicia is sceptical of his motives when witnesses against Bishop begin recounting their testimony. Lester might have a meek appearance, but there could be witness intimidation occurring. Alicia has shown that she will work in the moral grey areas with how far she will go to win a case – is this one step too far? Alicia will also have to deal with a face from the past as her former classmate Liz (Audra McDonald) makes an appearance as Alicia's current legal foe.
This season has seen Alicia act in a more confident manner in both her personal and professional life, even if it hasn't been drama free. There was the Will (Josh Charles) incident that was followed up last week by an awkward elevator ride (this show loves its elevator scenes) and they realized that they can't avoid each other. This doesn't mean that they will act on their feelings; instead Alicia had another bus rendezvous with Peter (Chris Noth) and Will continued flirting with Laura (Amanda Peet). Reigniting this tension between Will and Alicia in tandem with whatever the relationship status is with Peter means that things are going to be complicated romantically in this latter half of the season. Alicia has always had the moral high ground with Peter, but this dynamic is evolving.
Watch a promo for "Runnin' With the Devil" and to see photos of whom Alicia and Kalinda will be working with tonight click on the link below.
http://youtu.be/2eGurp3sz-o