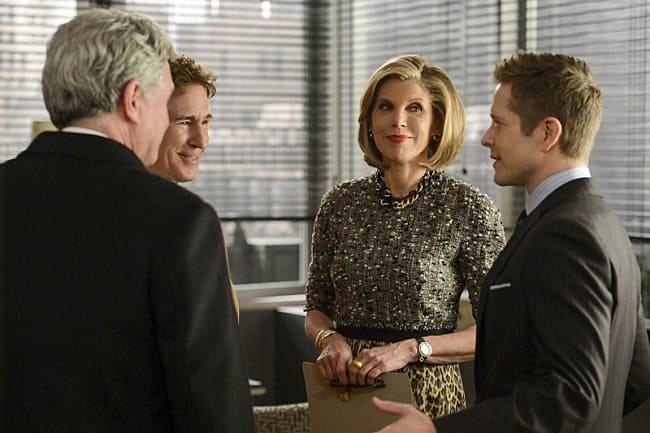 Season 4 of The Good Wife started with Lockhart Gardner in financial jeopardy and Peter's (Chris Noth) gubernatorial campaign. The first of these two storylines has concluded and the firm is once again in a comfortable position, the latter is heating up as Eli (Alan Cumming) is now free from his own legal woes. Before Peter can take on Mike Kresteva (Matthew Perry), the tension within his campaign team will have to be sorted out and a scheme from Eli might do the job.
The conflict in Peter's campaign stems from the DNC employing another campaign strategist to work alongside Eli. The Justice Department's investigation into Eli is why they hired Jordan (T.R. Knight), but through all of this Eli has demonstrated that he is loyal. More importantly (because Peter doesn't know the real reason behind the investigation) Eli has shown what a top campaign manager he is. It was Eli's advice that helped Peter in the debate as Jordan floundered at this key moment. The past few episodes have emphasized Eli and Jordan's inability to work together and Peter has clearly chosen Eli, but how do you get rid of the DNC's golden boy? A scheme is how and we know that Eli is good at this too.
New business is coming to Lockhart Gardner from a source close to home; Cary's (Matt Czuchry) father Jeffrey (John Shea). Jeffrey was introduced earlier this season and Cary's relationship with his father is strained at best. It's unlikely that Cary will welcome his father's business with open arms and he might suspect an ulterior motive. Cary has had a difficult time at work recently; he got a promotion, then it was rescinded and now Cary is taking steps to go out on his own. Last week Kalinda (Archie Panjabi) protected his secret and it was also hinted at, that their relationship possibly took a romantic turn. If something did happen between Kalinda and Cary could they show it on camera next time please?!
Mixing romance with work can be complicated and since Will (Josh Charles) and Alicia's (Julianna Margulies) latest workplace indiscretion there has been tension between the pair. They have done a good job up until now of suppressing any feelings that they have for each other, but a case that has them working close together could bring up these emotions once again. It's a particularly tricky case this week as it involves an inquest at the cornoner's office and they are given a strict rule that limits the number of questions they can ask; only three per witness.
A new investigator was introduced last week and Robyn (Jess Weixler) returns this week. Robyn was chosen by Will and Alicia, Will thought that she could be disarming and Alicia believes that she can work with Kalinda. Kalinda was initially hostile to Robyn, but it looks like Robyn could be an asset as she helped with the Bishop case and so Kalinda might become more open to a second investigator. I'm looking forward to seeing more of this character as she seems to be the right side of kooky (much like Elsbeth Tascioni).
Watch a promo below for tonight's episode "Invitation to an Inquest" (it also contains footage from the next two episodes) and to see promo photos click on the link below.
http://youtu.be/OmzG74NJIIk