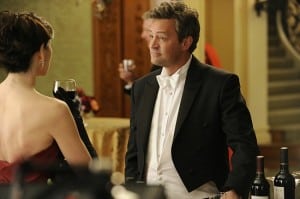 At the end of last week's episode of The Good Wife we saw Alicia (Julianna Margulies) head out to the Chicago Shamrock Dinner and Grace (Makenzie Vega) commented that her mother looked like a princess. Tonight's outing will continue from this moment and it is an event that will feature tension; both of a political nature and from a personal perspective as recent events have meant that old feelings have resurfaced. Will (Josh Charles) and Alicia have only just completed one case, but there's never a free moment to forget about work as one of their clients is murdered and it could have serious repercussions.
The client is played by Fringe favorite John Noble and we will get to see him interact with Alicia in flashbacks. Alicia is convinced to waive her attorney/client privilege to help the police as she learns that the killer might target someone close to her. Noble's character is erratic and litigious and there is a list of people who would gladly see him dead. Speaking to TV Fanatic John Noble discussed why Alicia is important to his character "He went to the firm and is put up with Alicia and formed a real bond with her, frankly, and then became rather attached to her and continually went back with other issues." Ever since it was announced that John Noble would be guest starring I have been anticipating this appearance, it's just a shame that his character has been murdered and so there will be little chance that we will see him again.
Will and Alicia fans will be happy to hear that these flashbacks are set at a time when they were still a (secret) couple and it looks like there will be some steamy scenes between this pair. The past few episodes have reignited feelings between them; from a spontaneous kiss mid-argument to tentative, awkward conversations where they discuss being friends again and it is clear that there is still a lot of sexual tension. The death of this client will awaken these other memories and the presence of both Peter (Chris Noth) and Will at the event will further complicate matters. Alicia has been sleeping with Peter since Thanksgiving and while their relationship hasn't been defined it is a discussion that probably needs to happen soon.
There is another factor that could turn this triangle into a square as Laura (Amanda Peet) has been enjoying some flirtatious banter with Will recently. Could a question from Laura also prompt some relationship soul searching from Alicia? Alicia's mother Veronica (Stockhard Channing) is also appearing tonight and as we have previously seen, she has some very strong opinions when it comes to Peter.
It's not all about relationships and murdered clients tonight as we take a step forward in the gubernatorial race as Peter finally beat Maddie (Maura Tierney) last week. Matthew Perry returns as Republican nominee Mike Kresteva and they are both vying for the same influential endorsement. Kresteva has shown that he will get personal in this campaign and Alicia makes it clear how much she despises him. This night is incredibly important to both candidates but will a heated encounter ruin it for one of them?
Diane (Christine Baranski) will be on the receiving end of a stunning offer that could change everything; what do you think this offer could be?
Watch a promo for tonight's episode "Death of a Client" and check out photos of Matthew Perry's return by clicking on the link below.