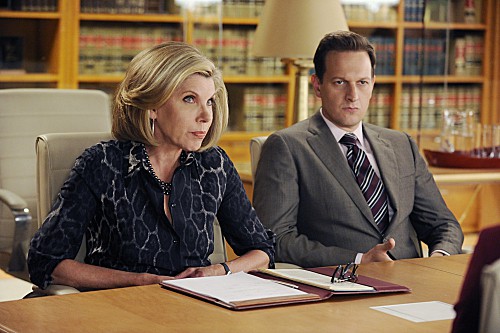 The Good Wife returned last week with storylines that seem familiar; Peter (Chris Noth) is campaigning again, the firm is in financial trouble and Cary (Matt Czuchry) is working at Lockhart Gardner. It is clear that these plots aren't just being recycled and there is a fresh look at all these areas. Tonight we will also see a familiar sight with Will (Josh Charles) returning to the courtroom for the first time since his six-month suspension.
Will's performance in the courtroom is set to have a direct impact on the firm's financial situation and a win at this time is important. Will as we know is a gambler by nature so he turns down a low settlement offer to try and go for the big money, but as he is rusty in the courtroom this could be a complete disaster. One of the key relationships in The Good Wife is between Will and Diane (Christine Baranski); there is room for banter (like in the sneak peek below) but they are also brutally honest with each other (most of the time). They work so well together because they are so different, but if Will isn't successful in his quest for more money in this case then you can be certain that Diane will let him know how angry she is with him. I'm hoping for another whisky drinking scene between the pair, as this was one of the season premiere's highlights last week.
Nathan Lane will be making another appearance as court appointed trustee Clarke Hayden this week as he continues to monitor Lockhart Gardner's finances. Hayden managed to impossible; he outfoxed David Lee (Zach Grenier) who was ready to jump ship until he realized this would lose him a lot of money. This helps Lockhart Gardner as family law is the most lucrative department.
This week's we will meet Maura Tierney's wealthy business woman Maddie Hayward and this is one storyline that I have been anticipating all summer. One reason for this is down to Tierney herself as she brings a warmth and power to the characters she plays. I'm also looking forward to seeing her sparring with Eli (Alan Cumming) as he wants Hayward's financial and political support. Finally I think it would be great for Alicia (Julianna Margulies) to have more friends, especially as things are still complicated with Kalinda (Archie Panjabi).
Alicia told Kalinda last season that they could only be friends if Kalinda is honest with her, this wasn't the case last week when Kalinda neglected to tell Alicia that Nick (Marc Warren) is her ex-husband. Kalinda will reveal this important piece of information this week and that he is dangerous, how will Alicia react to this news? The '50 Shades of Kalinda' direction of this story is unappealing to me at the moment and I hope that it develops beyond just a toxic relationship of abuse and power.
What did you think about the Good Wife season 4 premiere last week?
Watch the sneak peek for "And the Law Won" below and for promo photos from the episode head here. For more season 4 news, photos and videos browse and bookmark our Good Wife page.