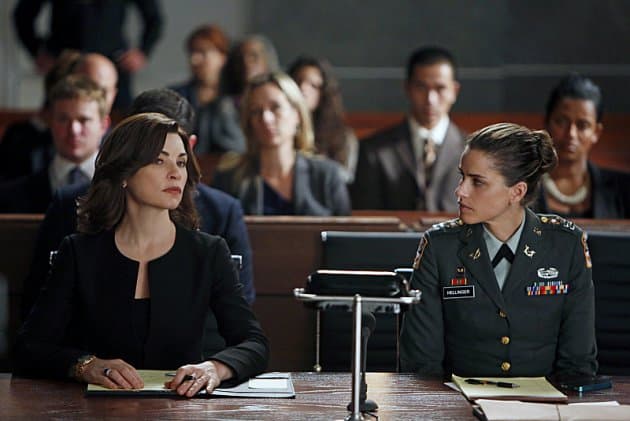 This was never going to be a simple campaign for Peter (Chris Noth) on The Good Wife but tonight he will face a new obstacle from a familiar face. Last week saw Peter win the straw poll by an epic margin, despite rumors that he had slept with a campaign worker; so will he be beat this new opponent? Alicia (Julianna Margulies) will face challenges both with Peter's campaign and in court. There will be a Good Wife star behind the camera tonight as this episode is Josh Charles' directorial debut.
The Good Wife is not about stunt casting, but utilizes the talent that is available to them as a show that shoots on the East Coast. This means that they often get their pick of Broadway stars such as Nathan Lane and tonight will showcase how good the casting department is. Returning faces include Judge Abernathy (Denis O'Hare) who will team up with Judge Kuhn (Linda Emond) as military and civilian court will meet in a complicated case. Amanda Peet begins her multiple episode arc tonight, playing Captain Hellinger and she is in court accusing a civilian contractor of attempted rape. Serviceman can't sue the military, but because it is a civilian that is accused does this mean that these rules do not apply? Alicia faces a tough opponent with Brian Dennehy playing the opposing council and this looks set to be a compelling episode.
Last week, when the news of Peter's scandal broke Maddie Hayward (Maura Tierney) withdrew all of her campaign funding and support. This is a massive blow to Peter's campaign, but there is something bigger on the way. Even though Maddie is no longer supporting Peter, she still wants to remain friends with Alicia. Considering how their last drink date went and what I suspect will happen tonight, I think the chances of this happening will be slim to none. Maddie's motives aren't completely clear when it comes to Alicia; does she genuinely want to be her friend or was she just manipulating her? Either way I expect Eli (Alan Cumming) will be kicking more office furniture and screaming into his phone by the end of the episode.
While Kristin Chenoweth's role on The Good Wife was cut significantly after an on-set accident, she will be back tonight! Does this mean that Peter will face more probing questions about his real and fictitious extra- marital affairs?
A highlight from last week's episode was the teaming up of Cary (Matt Czuchry) and Clarke; firstly because it gave Cary more to do, than he has done all season so far (and all in a rather lovely hoodie). It also gave them the chance to expand on Clarke's character and Nathan Lane is doing a superb and understated job, hopefully he will stick around in an accounting capacity after his trustee work is done.
Check out the promo photos from tonight's episode "The Art of War" here. For more season 4 news, photos and videos browse and bookmark our Good Wife page.