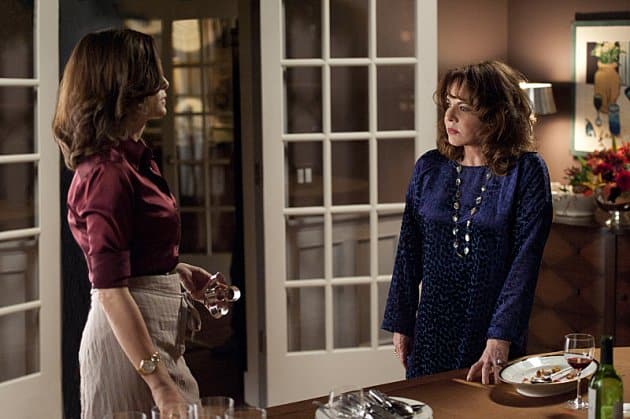 Here at TVOvermind we have praised The Good Wife's casting department on more than one occasion this year and tonight's Thanksgiving episode brings yet another fantastic actor into the fold; Stockard Channing guest stars as Alicia's (Julianna Margulies) mother Veronica. Tensions will rise as the family comes together to celebrate the holiday and it will become clear as to why Alicia is as buttoned up as she is.
Last time Alicia hosted a dinner that involved her family and Peter's (Chris Noth) was back in season 2, when Owen (Dallas Roberts) had made some contentious remarks about his brother-in-law. This was an evening full of passive aggressive comments and a lot of wine, but it looks like this could trump that with Alicia, Jackie (Mary Beth Peil) and Veronica all around the same dinner table. There will also be a lot of wine on this occasion and while Alicia is usually civil to her mother, the wine brings out another side and true feelings will be revealed. Expect some snarky comments between the two mother-in-laws as Jackie and Veronica are on the opposite end of the spectrum; Jackie is, well Jackie and Veronica is more of a free spirit.
Veronica has come to see Alicia for another reason beyond turkey; she needs moral and legal support. When we have heard Owen and Alicia discussing their mother in previous episodes it is clear that Alicia took on a role of responsibility when they were growing up and this is why she is so reserved. Alicia's interactions with her brother are always a joy to watch and it sounds like she will need her brother to act as the middle man during this testing time. Owen challenges Alicia, but he is also incredibly supportive and while he likes to mess around with his sister, he can also act as a calming influence on the situation.
It is still business as usual tonight alongside these festivities as Alicia is working on a case with Diane (Christine Baranski). They make the mistake of letting Jeremy Breslow (Bruce McGill), a famous liberal lawyer aid them on their case and it turns out that he might not have their clients best interests in mind. Brian Dennehy returns as lawyer Bucky Stabler, alongside Bebe Neuwirth as Judge Friend.
Last week's episode didn't end so well for Cary (Matt Czuchry), as he was attacked in what Cary could regard as a random act of violence. This is unlikely and it looks like Nick (Marc Warren) has let his jealous side get the better of him and has unleashed one of his goons onto Cary, all because Nick doesn't like the way Cary and Kalinda (Archie Panjabi) interact. That or he really hates Cary's Calvin Klein suits. The writers already know that a vast proportion of the audience dislike Nick and by having this happen to Cary it's like they are challenging us to hate him more, which I didn't think was possible but this proves that it is. Hopefully Cary's injuries are not serious and this will encourage Kalinda to get her ex-husband far away from Chicago.
Watch a promo for tonight's episode "A Defense of Marriage" and a behind the scenes video of the cast discussing tonight's guest stars.
http://www.youtube.com/watch?v=XH4tw0EeaR4&version=3&hl=en_GB
http://www.youtube.com/watch?v=YMwSn2rh5zs&version=3&hl=en_GB