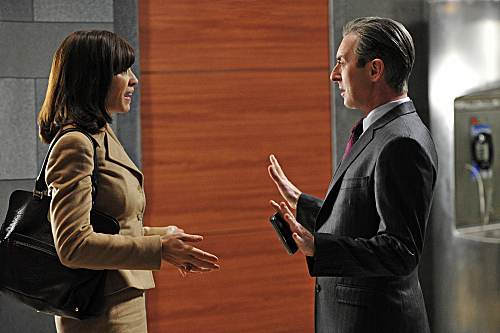 This week's episode of The Good Wife delivered an unexpected surprise. Wendy Scott-Carr may not have succeeded in getting a grand jury indictment against Will, but by turning her evidence over to the Bar Association, she was an instrument in what happened to him. After their investigation, the Bar Association decided to present Will with a choice: either he agreed to a voluntary 6 month suspension or they would proceed with disbarment. Despite Diane suggesting that he fight tooth and nail, he decided to take the suspension. Now he's out at Lockhart/Gardner.
But the power struggle has just begun now that Will is temporarily out of the picture. The other partners are telling Diane that they want to take his old place (and his old office). But could Caitlin be the hungriest of them all? Kalinda certainly thinks she can't be trusted. Plus, we'll finally get to meet Will's sisters when Kalinda drops in to see him and meets the visiting women.
Peter wants to restart his political career so Eli organizes a meeting with Democratic Political Strategist Donna Brazile in hopes of securing a major speaking opportunity for Peter. But Peter will find that his "recent, well-intentioned actions have alienated some of his supporters".
Finally, Alicia and Caitlin will go up against Nancy Crozier in the next new episode of The Good Wife when they defend a documentary filmmaker who is accused of causing a student's suicide.
The Good Wife is currently on hiatus until March 4.