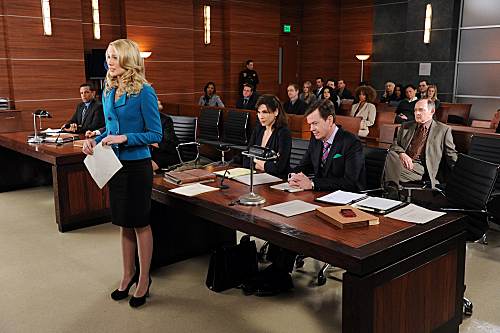 There are many words of praise that can be applied to The Good Wife and one area that continues to excel is the guest stars that this show casts. Some are just for one episode and others such as Michael J Fox have become recurring characters (Fox will be back next week) and tonight sees the return of the creepiest of them all; Colin Sweeney (Dylan Baker).
Sweeney appeared during the first half of this season and he managed to get an early release from prison. Now Sweeney is attempting to regain control of his company that he lost before he went to prison back in season 1. This being Sweeney things are never easy and he has managed to get himself into another predicament that will see him back in court and needing Alicia's (Julianna Margulies) help once again.
So what has Sweeney allegedly done this time? Sweeney is facing sexual misconduct charges as Homeland's Morena Baccarin is playing his accuser Isobel, a former employee who is claiming that Sweeney fathered her child. The problem here is that the two never had sex so how is he the father of her child? As we have seen before, Sweeney is what you could call 'experimental' in the bedroom department so anything is possible here. This isn't where the excellent guest stars end as Bebe Neuwirth is playing Judge Friend who is presiding over this case. Sweeney has an interesting way with people and it is likely that he will try and manipulate this judge to get a rise out of her. As you can see in this promo Alicia wants to withdraw from this case, something that Judge Friend will not allow. What is it that makes Alicia want off this Sweeney case (other than the obvious of course)?
Alicia isn't the only one having work issues this week as Cary (Matt Czuchry) is facing a moral dilemma at the SA office, as Peter (Chris Noth) tasks him with enforcing office policies. We saw last week how uncomfortable Cary was with having to effectively demote Geneva (Renee Elise Goldsberry) to make way for one of Peter's campaign supporters. This is the first sign that we've had since Peter took office that he is willing to bend the rules to benefit him politically. We have seen him behave in a slightly devious manner in how he handled the Will (Josh Charles) situation but that was definitely more for personal reasons than professional (not that it makes it any better really). How far will Peter go to get ahead? This is a simple 'you scratch my back, I'll scratch yours' situation, but it could be a slippery slope from here on.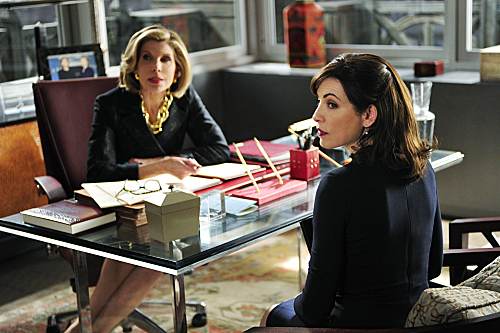 Last week we saw the transition of how Lockhart Gardner looks without the Gardner aspect in play and as expected there were several people vying for Will's spot. Diane (Christine Baranski) handled this as best she could, but the persistence of David Lee (Zach Grenier), Julius (Michael Boatman) and Eli (Alan Cumming) is likely to continue even with Will showing an active interest.
One area that could prove problematic since this shake-up is from Caitlin (Anna Camp), who performed well enough to land a promotion that also means that Alicia will temporarily have to share her assistant with Caitlin. There is clearly a rivalry here that looks like it is stemming from Alicia's side, Alicia is not one to normally fall foul of jealous feelings but what is it about Caitlin that is provoking this reaction? Caitlin is David Lee's niece so this could be vital in terms of office politics; especially as Alicia clearly angered David Lee when she fired him as her divorce lawyer. Caitlin is also working on the Colin Sweeney case and she will almost certainly have to put up with some inappropriate comments from Sweeney and I'm sure he will love having her as part of his defense team. This definitely looks like a conflict stacked episode of The Good Wife.
Are you looking forward to the return of Colin Sweeney? How do you feel about Caitlin? Will Cary continue to do what Peter asks of him? Let us know your thoughts in the comments.
For promo photos and video of "The Long Way Home" head here.