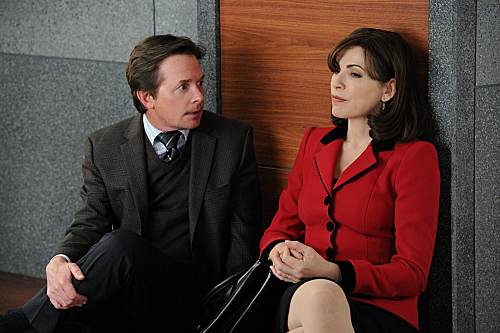 Colin Sweeney returned to this week's episode of The Good Wife. Of course, wherever he goes, drama follows. Just before a proxy vote for Colin to take back control of his company, a woman named Isobel (guest star Morena Baccarin) appeared on stage to accuse him of sexual misconduct and fathering her son.
Colin denied everything, but she was pursuing a lawsuit against him, so Alicia and Caitlin defended him in court. Along the way, Colin perjured himself about sexual relations with Isobel and the firm learned that he was the father of Isobel's son, although Isobel achieved that by using his sperm and a turkey baster. In the end, Colin surprised the firm by revealing that he and Isobel had come to their own arrangement and were going to re-take the company.
Alicia also confronted Caitlin about undercutting her in front of Diane and the other partners and now both she and Kalinda seem suspicious about Caitlin and her motivations. But Caitlin made a surprise move when she resigned from the firm and announced that she was pregnant and getting married.
In the March 18 episode of The Good Wife, Michael J. Fox returns as Louis Canning. Alicia faces off against Louis in a recent case when she and Julius represent a man who lost his wife in a snowmobile accident. They are attempting to prove that his former professional hockey career didn't impair his ability to drive the snowmobile. After considering her recent financial concerns, Alicia debates whether to accept his job offer. Diane also decides to take charge in her personal life. Bryan Brown returns as Jack Copeland and Gary Cole returns as Kurt McVeigh.
Watch a preview below for the March 18 episode of The Good Wife, airing at 9:00 p.m. ET on CBS.