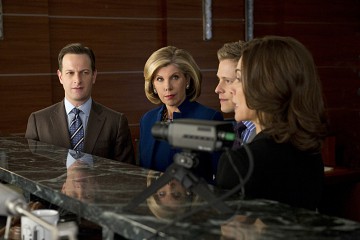 The writers of The Good Wife took strategic advantage of the month-long hiatus between episodes in this week's "Red Team, Blue Team," which found Lockhart & Gardner lawyers celebrating after digging themselves out of their financial crisis. After obtaining wealthy internet business ChumHum as a client, the law office finds itself not only out of debt, but over $100 million in the black. But now these money-grubbing equity partners wanna take back their offers to the five fourth year associates, since they no longer need their money to keep the firm afloat. The vote to delaying partnerships for a year causes quite a stir with Cary and Alicia, who gather the other associates to talk strategy involving not-so-secret meetings with big clients to instill fear in the partners.
The trial of the week takes an interesting and heated turn in this episode, which finds Diane and Will as defendants of a energy drink company who's being sued for the wrongful death of a sixteen year-old girl. Cary and Alicia play plaintiff against them in a mock trial designed to judge how a potential jury will vote in a real trial. As tensions between associates and partners increase inside the 28th floor, the fun mock trial transforms into a fiery courtroom showdown.
Carrie Preston returns this week to her role as the hilarious and witty Elsbeth Tascioni. Tascioni's back in action as she attempts to weasel Eli out of felony charges. The story develops into a battle of wits against  Kyle Maclachlan's Josh, who rips up a shred of evidence right in front of Tascioni, simply because he can. Quite amusing to watch the two attempt to outsmart each other as Josh simultaneously tries to entice Tascioni to go on a date with him. He's adorably slimy and I already ship it.
After duking it out in mock trial court, Will confronts Alicia in a screaming match late at night in her office. After she dishes it right back to him, he does the unexpected, albeit slightly predictable you've-seen-this-in-every-romantic-movie-ever. Yep.
He kisses her. Squee. And, of course, Mrs. Florrick is all too happy to indulge in a moment of weakness. Double squee. She hightails it out of there, of course, but the damage has been done. These two can't keep their hands off each other when they're alone, which is probably why they agree to stay away from each other before the episode is over.
In order to quell the rebel fourth years, the equity partners decide to offer partnership to one associate. And since it's looking like Peter's gonna become governor, it only makes sense to mold Alicia into a powerhouse, doesn't it? Of course, this does throw a wrench into the whole teaming-up-with-Cary thing. But he seems all too willing to forgive.
For now, that is.
Grade: A-