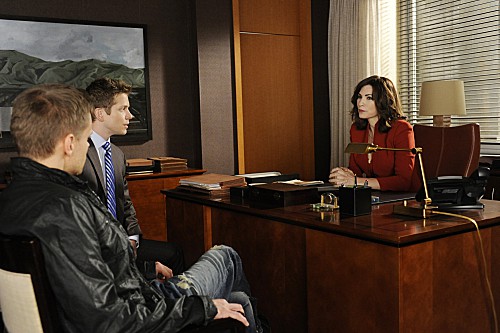 With just two weeks to go before The Good Wife returns, we have not one but two behind the scenes videos that reveal what we can expect from season 4 and it sounds like this will be an explosive year. Both videos give hints as to what lies ahead, but leave enough room for speculation about the state of certain relationships.
Co-creator Michelle King reveals that the season premiere will pick up seconds after the season 3 finale and we will join Kalinda (Archie Panjabi) as she confronts the person on the other side of the door. Last year saw Kalinda's character being used mainly to service other characters storylines; this doesn't appear to be the case this year as we will be diving into Kalinda's past and her personal life. They have been reticent to reveal too much about Kalinda in previous seasons and the character has remained mostly a mystery, but this is all set to change and Robert King explains Kalinda's story will be "very personal, but also violent and interesting story about her life." The introduction of Marc Warren as Kalinda's ex-husband Nick looks like it will be the catalyst for this exploration.
Christine Baranski explains that intrigue is in full force this season and we will be seeing other sides to these characters. This idea of intrigue also relates to Cary (Matt Czuchry) as we don't currently know all that much about his personal life, this is set to change as we will meet Cary's father (guest star John Shea) and Robert King says we will be seeing a different side of Cary this year.
So what about the good wife of the title? Julianna Margulies doesn't say whether Alicia has reconciled with Peter (Chris Noth) but she does say that "You can expect a very supportive wife, she wants him to win the gubernatorial race." This is from both a personal and professional point of view; Alicia thinks he would make a good governor, but Peter's position is also opening professional doors for Alicia as her importance at the firm is increased by his political role.
There has always been a political angle to The Good Wife and this will be more apparent this year with Peter's campaign and Margulies comments that the timing is pretty apt considering what is going on in the real US political arena at the moment. The Kings have never refrained from adapting real life events and giving them the Good Wife treatment, so I'm sure we can expect more of this in season 4.
Watch the two videos below and for promo photos of episode 2 head here. Let us know what you would like to see in season 4.
The Good Wife will return on Sunday, September 30 at 9:00 p.m. ET/PT on CBS and for more season 4 news, browse and bookmark our Good Wife page.