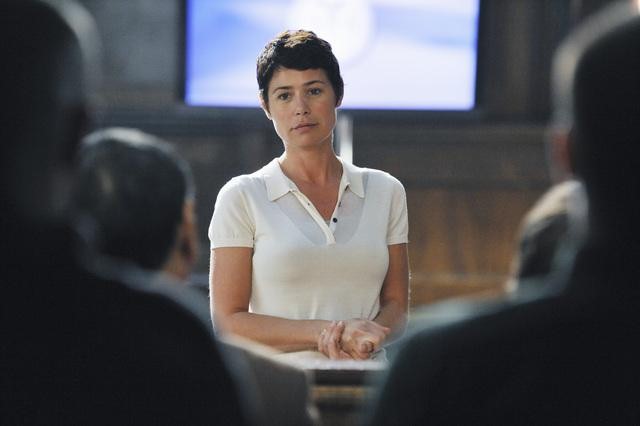 We're a couple of months away from the season 4 premiere of The Good Wife, but for those of you craving some news are in luck as two important recurring guest stars have just been announced. TVLine has just revealed who scored the role of Kalinda's (Archie Panjabi) ex-husband and which E.R. veteran will be joining the cast as part of Peter's (Chris Noth) storyline.
British actor Marc Warren will be playing Nick, Kalinda's ex who nearly made her flee Chicago but instead, Kalinda opted to stay and wait for him in the dark, gun in hand. From the manner in which he spoke to Alicia (Julianna Margulies) on the phone and how Kalinda reacted to this news, Nick is not a character to be taken lightly.
Warren has appeared in many UK television productions such as State of Play, Hustle, Doctor Who and he was also in HBO's Band of Brothers. Does Warren have what it takes to play the man who caused Kalinda to become Kalinda and flee her old life?
While the casting of Nick is intriguing, it is the second piece of Good Wife casting news from TVLine that has got me particularly excited and that is Maura Tierney. Tierney will feature prominently in Peter's campaign storyline as she will playing Maddie, a self-made billionaire who has strong ties to the Democratic political scene in Chicago. Eli (Alan Cumming) will be after Maddie's financial support and looking for an endorsement too. Tierney has signed on for as many as 10 episodes so expect to see a lot of her next season.
Maura Tierney appeared with Julianna Margulies on E.R., as Tierney joined the hit medical show in season 6, which happened to be Margulies' final season as Carol Hathaway. Tierney's character was introduced in the episode "Great Expectations" and was Hathaway's OB/GYN nurse when she had her twins. I am very much looking forward to Eli's attempts to get Maddie on board with the 'Florrick for Governor' campaign and seeing Tierney as part of the already epic list of amazing Good Wife guest stars.
What do you think of this casting news?