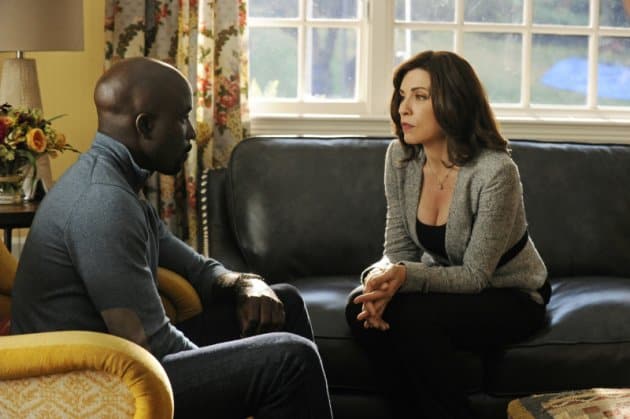 It's Sunday which means a new episode of The Good Wife, but as a bonus we also have promo photos from the October 28 episode "Waiting for the Knock." This marks the return of Lemond Bishop (Mike Colter) who is looking to Lockhart Gardner to help with his latest legal woes.
Lemond Bishop is a figure to be feared; the last time we saw him was in the penultimate episode of last season where he voiced his concern at having the FBI question him. The reason that he was approached by the FBI (and Lana Delaney specifically) was thanks to their investigation into Kalinda (Archie Panjabi) and Bishop made it clear that this type of activity needed to stop. With Bishop a threat like this needs to be taken seriously and despite Lockhart Gardner being in charge of his legitimate businesses, they are also aware of his not so legitimate ones.
With Lockhart Gardner's financial situation, Bishop must be one of their key clients now so when he calls they have to respond. Bishop learns that one of his accountants has been arrested and he wants to know if the FBI is interested in his legitimate business dealings or his massive drug trade. Bishop has a second layer that we will meet; Lesli Rand (Annabella Sciorra) who I am assuming handles his not so savory business deals.
FBI Agent Lana Delaney (Jill Flint) is still part of the investigating team as you can see from the promo photos above and things are likely to be complicated between Kalinda and Delaney, particularly with Nick (Marc Warren) hanging around. Maybe Kalinda can solve her Nick problem in the same way she handled her Blake (Scott Porter) problem; by getting Bishop to think that he has been wronged in some way.
Are you looking forward to Bishop's return?
For more season 4 news, photos and videos check out our Good Wife page.