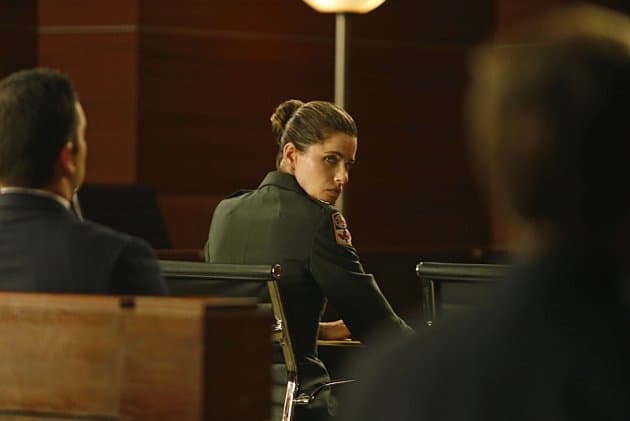 We have a treat from The Good Wife to start the week; new photos from the November 4 episode "The Art of War" that will see the return of some very familiar faces and the introduction of some new ones as we return to a military themed story. The previous cases that have been military based had the firm practising law in military court, but this time there is a role reversal. Spoilers ahead.
Alicia (Julianna Margulies) represents an Army captain — played by recurring guest star Amanda Peet — who accuses a civilian contractor of attempting to rape her in Afghanistan. Alicia tries to prove that he is not protected by a law prohibiting serviceman from suing the military. Brian Dennehy guest stars as the opposing council Bucky Stabler and I am pleased to report that Judge Abernathy (Denis O'Hare) will be presiding over the case. Another favorite judge of mine will also feature; military Judge Kuhn (Linda Emond).
This episode is also the directorial debut of Josh Charles and Denis O'Hare tweeted photos of the first-time director a couple of months ago.
It has been suggested that Peet's character Captain Hellinger will form a friendship with Alicia, increasing Alicia's friends circle beyond her colleagues even further. After last night's drinks with Maddie Hayward (Maura Tierney) took a turn for the awkward after Alicia discussed the Peter (Chris Noth) infidelity rumors, a new friend might be needed. Hopefully this season will show that Alicia can have several different friendships and that Maddie decides to let that moment slide. Maddie will also feature in this episode, though in what capacity is unclear.
Peter's campaign will hit a surprising obstacle in "The Art of War" and last night ended in a rather ominous fashion as Eli (Alan Cumming) might be able to control a magazine from printing a story, but the internet is a different beast. There are concerns about Jackie (Mary Beth Peil) too, as despite her clean bill of health there is definitely something wrong as Jackie is hallucinating bugs.