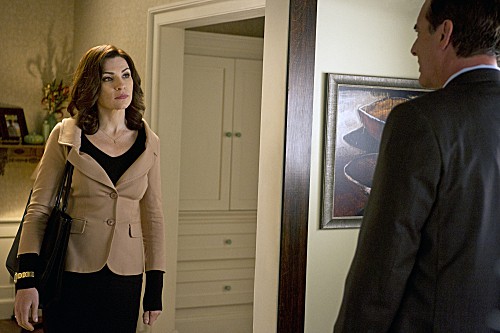 While we are still a week away from the season 4 premiere of The Good Wife we do have promo photos from episode 3 that sees the return of one of the great Lockhart Gardner antagonists and a new campaign problem for Peter (Chris Noth). Spoilers ahead.
The Good Wife has embraced different aspects of technology in both the cases that they represent and in the political aspects of the show. These have previously included social media, viral videos and Bitcoin and they will be exploring search engines in this episode (for more on The Good Wife and technology check out Emily Nussbaum's piece here). It doesn't sound too exciting, but as the Good Wife writers have shown on countless occasions they can make these cases compelling, especially when you throw Rita Wilson's Viola Walsh into the mix. Walsh was a friend to Lockhart Gardner until her prize client Patrick Edelstein (Jack Carpenter) took his business to Lockhart Gardner. Now that Edelstein is no longer with Lockhart Gardner this will give Walsh something to use against Diane (Christine Baranski), particularly with the precarious financial position they are now in.
The episode has the somewhat provocative title of "Two Girls, One Code" (a play on words of THAT infamous video and if you don't know the one, then don't look it up… no really don't) and will see the firm representing an internet startup who file a lawsuit against a search engine who are accused of manipulating results. It's good to see Will (Josh Charles) back in court (and not just as a bystander) and with Cary (Matt Czuchry) on their team once again. Dominic Chianese (The Sopranos, Boardwalk Empire) is joining the already long and impressive list of guest star Judges as Judge Marx.
Over at Peter's campaign things look like they are heating up, and not in a good way as Eli (Alan Cumming) attempts to stop another scandal that could impact Peter's gubernatorial bid. We know what Alicia has been up to during their separation, but we didn't see any personal related Peter antics during last season; could this be something from the recent past or does it go back much further than that? The photos show a tense looking Alicia (Julianna Margulies) talking to Peter and we still don't know exactly what is happening regarding a reconciliation, other than Alicia supporting his campaign.
We will also meet another reporter, this time played by Miriam Shor and it is likely that she will have something to do with this potential scandal. Shor is playing a different reporter to Kristin Chenoweth (who had to cut her episode number due to an on-set injury) and the press will be playing a big part in the Peter/Eli side of this season.
What do you think the scandal is this time?
The Good Wife returns on Sunday, September 30 at 9:00 p.m. ET/PT on CBS.