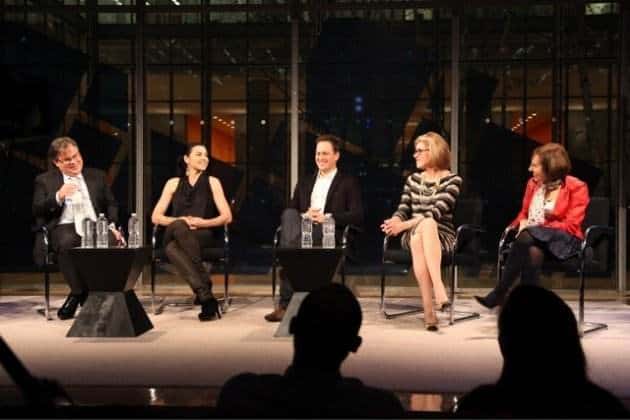 The Diane Lockhart (Christine Baranski) that we saw on last night's episode of The Good Wife is not how the character was originally intended, in fact she was originally meant to be "the mentor who tries to sabotage the mentee," with the mentee here being Alicia Florrick (Julianna Margulies). This is one topic that was discussed at the Times Talks panel for The Good Wife that was hosted on Friday night and featured Julianna Margulies, Christine Baranski, Josh Charles (Will Gardner) and creators Michelle and Robert King. The discussion is both very informative regarding the creative process of the show and hilarious in places as certain more intimate scenes are discussed.
Cable vs. Network
Michelle and Robert King are very aware that there are certain limitations to being a network show but also reveal that there are advantages to the position that they are in. The restrictions relate mainly to sex scenes as they don't really have many violent aspects on the show (maybe Kalinda and her baseball bat). With the sex scenes this allows them to get "more creative" and they specifically mention the Will/Alicia steamy moment from the season 3 opener. Not that they didn't have to tone this down as apparently Josh Charles was a tad enthusiastic with his lunges (or 'thrusts' as Julianna Margulies amusingly corrects Robert King).
The benefit of being on a network means that they are shooting as they are airing, whereas cable usually airs the episodes after they have shot almost the entire season. They are currently shooting episode 15 and last night episode 12 aired, which means they can cover current events which cable just can't do. Episode 15 has a story that is discussing the Syria conflict much in the same way that last season had an episode that referenced the uprising in Egypt around the time it was occurring. They can even add lines later on in the editing process through ADR to make the show even more topical. This also means they occasionally tweak storylines if the audience is anticipating what might happen too soon or if a spoiler is leaked.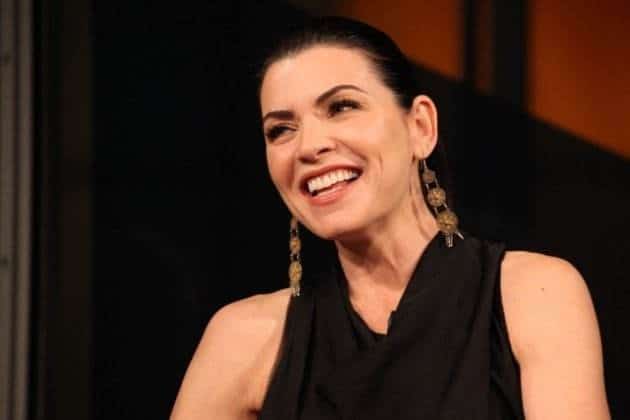 The Will/Alicia Romantic Relationship
What are the repercussions of the ending of this relationship? Josh Charles thinks that it allows them to "go deeper" into both Will as a character and with his relationship with Diane and even with Alicia as "their friendship deepens and develops." Julianne Margulies gives fans of this pairing hope by adding "Who's to say it's over really?" The relationship obviously had a huge impact outside of just the two characters and Christine Baranski highlights this by discussing the larger ramifications of this pairing for the firm as they were "crossing a line." Julianna Margulies also reveals that one of her favourite scenes is from "Whiskey Tango Foxtrot" between Will and Diane when she tells him to stop the relationship as it shows both love and authority, without judgement from Diane.
The Importance of Diane Lockhart
As I mentioned at the start Diane is not the character that they originally intended her to be and from the pilot it looked like Diane would be giving Alicia a hard time for her choice to quit work and be a full-time mother. This is not the direction that this character has gone in thankfully and this was in part, down to the charisma of Baranski herself. It also means that for once a single woman over 50 is being portrayed on TV not as a cliché or psycho trope but as a complex and multi-layered woman with many different attributes; it is one of the shows "triumphs". There has been a good response to this aspect, particularly from women and Baranski suggests that "television doesn't just reflect culture it can move culture forward."
The idea that really good roles for women exist mainly in television is something that was discussed during the Hollywood Reporters TV drama actresses roundtable and it gets reiterated here; the best roles for women over 40 are not on the big screen but are on television.
The show has covered complex world issues such as the season opener that looked at the Palestinian/Israel situation and the recent episode about the drone attacks. The trick in dealing with issues is to not end up earnest and Michelle King says this is "what they are always having to fight against." They try to go against the expectations of the audience from both a liberal and a conservative perspective.
Religion is another aspect that might have less to do with red or blue state reactions but after Alicia and Will had their first liaison they received a letter suggesting that the show should be called "The Good Slut" instead. There has been reaction from a certain portion of the audience that Alicia is at fault for her relationship with Will because she is still technically married to Peter and Margulies is still astounded when viewers tell her that Alicia should stay with Peter despite all of his indiscretions.
Alicia's Power in Silence
Julianna Margulies discusses Alicia's manner in dealing with personal conflicts and that this is a character that thinks before she speaks. Margulies is looking forward to what will happens as Alicia starts coming out of herself a bit more as the show progresses, but there is also "amazing amount of power in silence." This silence is what made her life so complicated in the first place, but it is also admirable. Margulies however hilariously demonstrates what you want Alicia to say about the whole Kalinda scenario to Will and Diane; "That slut Kalinda f***ed my husband and why the f*** do you want me doing a case with her?"
The panel also covers the move to Sunday night, the benefits of filming in New York, costume, legal issues with brand names and a whole lot more. If you would like to watch this Times Talk and to see more photos from the event which are featured above (and if you are a fan of the show I would highly recommend it) head here.
For a look at next week's episode "Bitcoin For Dummies" head here.