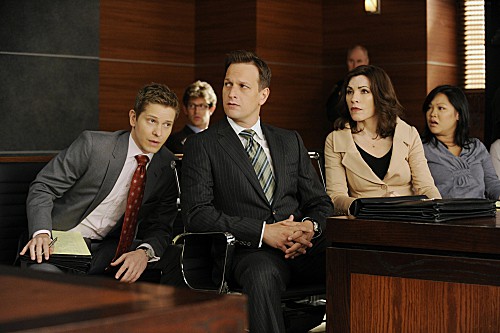 In the season 3 finale of The Good Wife Will (Josh Charles) asks Alicia (Julianna Margulies) if she thinks that their romantic relationship was a mistake, Alicia's answer is no. Will this change tonight when the new scandal that could rock Peter's (Chris Noth) campaign is because of this relationship?
When the promo photos for this episode were released a few weeks ago, I incorrectly assumed that the scandal that could impact Peter's campaign was because of Peter. This is not the case and it is Alicia's romantic past with Will that is being called into question. So far the press know that Alicia and Peter are separated and are working on it, but beyond that they have little to work with. We will meet another reporter tonight — Mandy Post (Miriam Shor) — one who claims to have a receipt from a hotel that proves there was a relationship between Alicia and Will. As you can see from the sneak peek below this is a big concern for Alicia as she discusses the night in question with Will.
This show has dealt with the aftermath of Will and Alicia with little melodrama; they are still friends and still have an excellent working partnership. Their relationship is still a contentious subject for Alicia and Peter and one that Peter knows very little about in reality, this is likely to put a dampener on those 'sorting things out' plans. The end of last week's episode shows that Peter and Alicia are comfortable with each other again and there is still chemistry between them. Trust issues are going to occur all over again with this potential scandal and this time on both sides of the aisle. Will Eli (Alan Cumming) manage to stop this news from leaking?
To make thing slightly more tense, Will and Alicia are also working together in court this week; representing an internet startup in a lawsuit against a search engine accused of manipulating results. In the last episode Will demonstrated that even though he is rusty in the courtroom, he still has what it takes to get results (with Kalinda's help). We will see the return of Rita Wilson as Viola Walsh and I'm sure she will enjoy the financial issues that Lockhart Gardner are having at the moment. There is also a new judge as Dominic Chianese (The Sopranos) joins the already impressive ranks of guest stars.
One character that is still unappealing is Nick (Marc Warren) and while I understand that this Kalinda (Archie Panjabi) story is meant to show us some of Kalinda's past, I'd rather be left in the dark if it's going to continue in this way. Yes this is a toxic relationship, but it has also reduced Kalinda's story to something cheesy that equates to guns and sex (yes I'm simplifying here, but I don't see anything particularly deep in it all). The conflict with Will, as he wondered where Kalinda was and the confession to Alicia were the only high points of this Nick related story last week.
While the Kalinda/Nick story is causing some concern, the introduction of Maddie Hayward (Maura Tierney) is a breath of fresh air. Maddie has connections now to both Lockhart Gardner and Peter's campaign; she's the new landlord of the building that Lockhart Gardner currently has three floors in (soon to be reduced to one) and she is going to give money to Peter's campaign after a chat with Alicia. This conversation was meant to have Alicia saving those two extra floors and so when she fails to do this, but gets some support for Peter it makes Diane (Christine Baranski) suspicious. Alicia isn't at fault here, but it does show that different people want her for her connections. This could end up with Alicia's loyalty to be called into question and she will have to make sure she doesn't become a political puppet in either her work place or with the campaign.
Watch the sneak peek for "Two Girls, One Code" below and for promo photos from the episode head here. For more season 4 news, photos and videos browse and bookmark our Good Wife page.