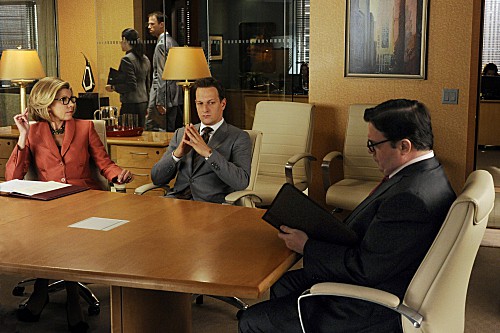 The fourth season of The Good Wife has begun with both personal and professional strife for those at Lockhart Gardner and there are reminders at every turn that they are in a financially precarious position. Peter's (Chris Noth) gubernatorial bid has hit some early bumps and his past have left him wide open to the kind of scandal that Eli (Alan Cumming) managed to shut down last week. Tonight we will continue in this direction as Alicia (Julianna Margulies) faces a tough time in the courtroom and encounters more questions regarding her relationship status with Peter.
Alicia is teaming up with Diane (Christine Baranski) and they had an awkward exchange a couple of weeks ago when Alicia didn't secure those extra two floors, but did get some campaign support for Peter from Maddie Hayward (Maura Tierney). This really wasn't Alicia manipulating Maddie, but Diane was suspicious of Alicia's agenda. I prefer these two when they are allies, so hopefully working on a case together will show Diane how much work means to Alicia. The case is a difficult one as the opposing council keeps changing his argument, meaning Alicia and Diane have to rethink their approach. Maddie will make an appearance tonight and Eli is trying to use Alicia's new friendship to benefit Peter's campaign, but Alicia won't let herself get played like that.
The presence of Clarke Hayden (Nathan Lane) is still causing issues, despite Hayden pointing out last week that he is on Lockhart Gardner's side as 'their success is his success.' What will make Diane tell Hayden in a firm manner to "back off" this week? Hayden has been calm with all that has been thrown at him so far and once again it looks like he will be dealing with this request in a way that shows that all Hayden is doing is looking out for the firm. Both Diane and Will (Josh Charles) are passionate about their work and it is this passion that has got them into this position, so a pragmatic hand might be useful in this scenario.
Last week ended on an ambiguous note with Alicia kissing Peter after she found out that he hadn't slept with a campaign worker. What this means for the big picture regarding their marriage is unclear and it could have simply been an impulse reaction to the relief felt in this moment. Alternatively, this might be the start of Peter and Alicia really working things out. Nothing would make Eli happier and this week will see Eli have a victory with his attempts to ensure that nothing tarnishes Peter's image. A giddy Eli is a fun Eli, but will he delve any deeper into the tension he felt between Kalinda (Archie Panjabi) and Peter in the last episode? Or is this a story for later in the season?
The press are still a factor and Alicia will answer questions about the status of her marriage to Peter, including a question she finds ridiculous; do they have an open marriage? This means more time with Mandy Post (Miriam Shor) and even though her questions about Will and Alicia seem like a red herring last week, this doesn't mean that Post (an excellent name for a reporter) will not bring it up again. Will and Alicia seem to be back in that place of 'missed connections,' though Will is sure to have Alicia's back if these questions do arise.
Sorry Cary (Matt Czuchry) fans, we don't have any news on what this episode might bring for Mr Agos, but hopefully something good will be coming his way soon. It seems like a bit of a waste at the minute to bring Cary back to Lockhart Gardner and use him minimally, but I have high hopes that this will change as the season progresses.
For more season 4 news, photos and videos browse and bookmark our Good Wife page.
http://youtu.be/duHqVkUdhtI