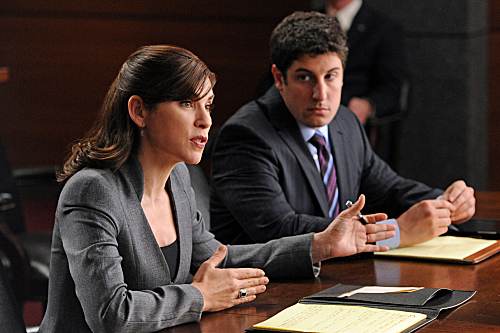 Season 3 of The Good Wife has seen the firm facing governmental opposition in both the cases that they have taken and on a personal level with the SA investigation into Will (Josh Charles). It would be wise than, for Lockhart Gardner to steer clear of representing a client who is being investigated by the government.
It would be wise yes, however the wise thing to do is not always the right thing to do and tonight's episode has Alicia (Julianna Margulies) defending a fellow lawyer Dylan Stack (guest star Jason Biggs), who refuses to reveal the identity of his client to the government. Stack's client is a mysterious computer programmer who has illegally invented a new online currency and the episode title "Bitcoin for Dummies" refers to a real online currency that launched in 2009 (for more on Bitcoin head here and here) that is free from any government control. This case also means that we will get to see the wonderful Bob Balaban reprising his role of Gordon Higgs; the Treasury Department official who Alicia had dealings with earlier this season. I have a feeling that Higgs will still be smarting over their last encounter and I don't see him offering Alicia any cupcakes this time around.
Carrie Preston returned last week as Elsbeth Tascioni and she is now working for Will as he faces judicial bribery accusations. Will hired Tascioni after Alicia's recommendation, who is now aware of this investigation (pesky speaker phone) but he didn't go into details so not to 'complicate things further.' Will has tried to protect Alicia from knowing about this all season, so it only makes sense for him to continue to do so and the manner in which the pair have conducted their work relationship since their break-up has been both mature and restrained. Hiring Tascioni seems like a good move on Will's part as she went to work straight away and forced Wendy Scott-Carr's (Anika Noni Rose) hand to indict Will before she was ready. It also meant that we got a terrific scene between the two women, which totally blindsided WSC; cracking that creepily cool exterior and once again showing why Carrie Preston deserves her own spin-off show (make it happen CBS).
One person who was barely in last week's episode was Cary (Matt Czuchry), but the impact his appearance had actually meant a great deal for the show and for Cary's relationship with Alicia. They are now at a place where they are no longer competing with each other and Cary seems truly happy with his job at the SA office; this can only mean that something will upset this harmony very soon and this case against Will is the likely source. Cary's loyalty doesn't seem to lie in one obvious place and I think he could be a very useful ally down the road for Lockhart Gardner and this scene was needed to show that he is at peace with this firm.
The Florrick children have both caused drama for their mother and tonight it looks like Zach (Graham Phillips) is taking the baton from Grace (Makenzie Vega) as the problematic one this week. Zach has mainly been IT support for Alicia and her firm this season, so it is good to see him getting a storyline that is a more personal one. Zach is going to use his girlfriend Nisa (Rachel Hilson) to pit his mother against his grandmother to get what he wants, by playing the race card. Is this little devious streak showing that he is his truly his father's son?
Kalinda (Archie Panjabi) and Alicia have definitely overcome the obstacle of working together/being in the same room and even though things remain frosty this is definitely a positive sign. Tonight's episode will see Kalinda trapped in a no-win situation, but is this related to the case that Alicia is working on or will it be with the SA office and specifically Dana (Monica Raymund) who is also working on the Will investigation? Regardless of what puts Kalinda in this position it could be another event that might soften Alicia to her former BFF and tequila drinking buddy.
For a look at the promo photos and video for "Bitcoin for Dummies" head here and check out a sneak peek from the episode below. Julianna Margulies is nominated for Best Drama Actress at tonight's Golden Globe Awards.