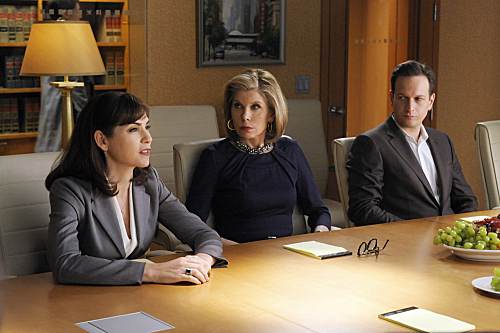 Tonight is the season 3 finale of The Good Wife and it is hard to believe that we are already at this time of year. This season has been one of transition for the characters who inhabit Lockhart Gardner and the State's Attorney's office and we have come full circle in some respects. Peter (Chris Noth) is about to embark on another campaign and Alicia (Julianna Margulies) has conflicted feelings about her relationship with Peter that could lead to a big decision. This season finale will also see Kalinda's past catch her up in a significant way and there is a threat to the future of Lockhart Gardner as two formidable opponents team up together to bankrupt the firm.
Let's start with the Louis Canning (Michael J. Fox) and Patti Nyholm (Martha Plimpton) element of the finale that has this self-confessed 'dream team' threatening to destroy Lockhart Gardner. It is still unclear as to why they are doing this or who they are working for but seeing these two pair up should be a whole lot of fun, even if it is at the expense of the firm. This is also not the first time this season that LG has faced going bankrupt as the divorce case in "Alienation of Affection" could have had this result if they had lost. Who do you think is behind this? Is the firm in real jeopardy? It is the finale which does make the stakes a little higher but it would be hard to imagine the show without the firm as a central workplace. If it were to happen it would certainly shake things up for next season.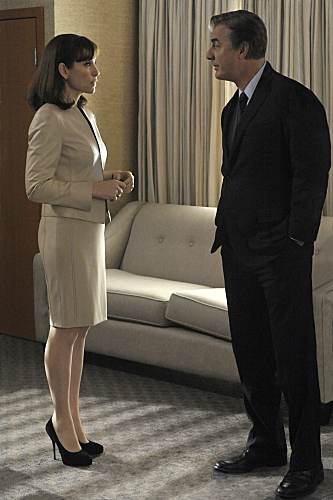 One person who could be in physical danger is Kalinda (Archie Panjabi) who thanks to Agent Delaney (Jill Flint) has caught the attention of Lemond Bishop (Mike Colter) in the worst possible way. Alicia as Kalinda's lawyer (and friend again- yay!) receives a call that has her concerned for Kalinda's well being and Kalinda claims that the caller is indeed dangerous. We've seen Kalinda get out of a lot of sticky situations in the past but is this one step too far? One of the big set ups this year has been getting Kalinda and Alicia back to a place of friendship and last week this was cemented and demonstrated by a chair swivel. This doesn't sound like much, but that one moment was just as worth it as the Will (Josh Charles) and Alicia elevator scene at the end of season 2.
Speaking of that season 2 moment unfortunately for fans of Will and Alicia as a couple don't expect to see a repeat of this in the season 3 finale. This doesn't meant that there won't be something to look forward to and Josh Charles spoke to E!Online about this pairing saying "What we're seeing is a sort of deepening of the relationship as they become more friends. You see it touch on that in this really lovely scene between Will and Alicia toward the end of the finale." Alicia has other relationship conflicts to address that concern Peter and his governor campaign; will she go back to being 'the good wife'?
Season 3 of The Good Wife has seen most of the characters going through moments of change in both their personal and professional lives. We have seen Cary (Matt Czuchry) go from an idealistic attitude at the SA office back to Lockhart Gardner claiming that he hasn't really learned anything from his experience there. While this is an exaggeration on Cary's behalf about his own personal growth it is so wonderful to have him back on the team and hopefully the firm still exists at the end of the episode so we can see Cary working his magic at Lockhart Gardner. Will has also gone through major changes this year that have made him a better man; he fell in love and got his heartbroken and then faced up to his past professional demons and accepted the consequences. Eli (Alan Cumming) is a hard character to pinpoint in terms of growth as he keeps himself pretty guarded though this year, though we did get to see two women who got under his skin.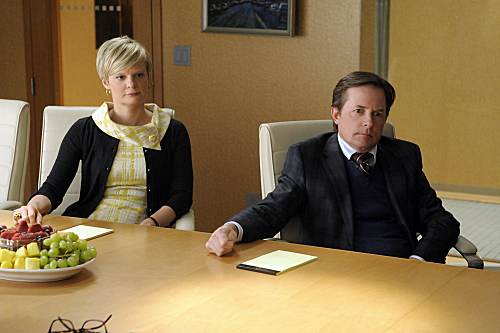 One character who hasn't really changed all the much this year is Diane (Christine Baranski) who has remained a calming force when all around is chaos. Diane stuck with Will even though she could have easily cast him aside as a liability. She handled the childish behavior from several of the equity partners as the Will shenanigans were going on and she even got some romantic action from not one but two men. The one Diane storyline I would have liked to have seen more of was the legal aid work with Romany Malco and I'm assuming that he is still in the LG offices somewhere.
There are several loose ends that need to be addressed in this season finale with the immediate ones involving the oncoming assault from Louis and Patti and the more long term story with Peter and Alicia. The Kalinda investigation is also an immediate threat and one that makes me feel nervous.
What are you hoping for or expecting from The Good Wife season finale? Do Patti and Louis have a chance in their quest for destruction? Is Kalinda in real danger? What are your thoughts on season 3 as a whole? Let us know your thoughts in the comments.