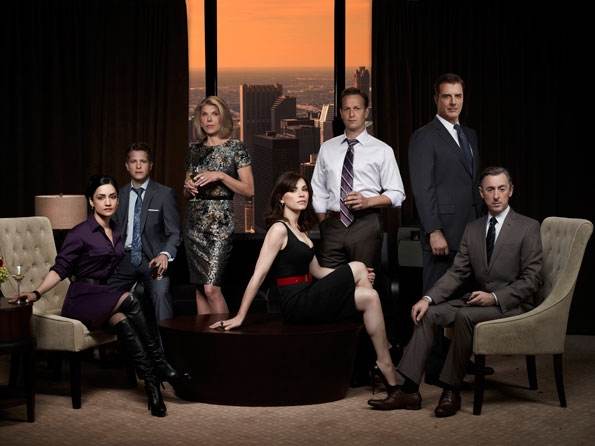 Lockhart Gardner might have an 80% win rating but tonight on The Good Wife they receive a guilty verdict that surprises even the prosecution. This verdict doesn't stop Alicia (Julianna Margulies) from pursuing justice as she is vehement that her client is innocent, but this pursuit unfortunately lands Kalinda (Archie Panjabi) in a pair of handcuffs (and not the good kind).
Last week Alicia broke off her affair with Will (Josh Charles) just at the moment where it seemed like he was ready to commit completely to her. Their relationship this season has been a lot of Will trying to get closer to Alicia, with Alicia holding him at a distance and this break up was the result of how complicated things have become. The manner of their break despite happening in an extremely public space (damn those big windows) was relatively simple and with few words, a scene wasn't made showing how mature they both are. Will might be heartbroken but he clearly understands Alicia's motivation.
Alicia still doesn't know anything of the SA investigation into Will; when will she find out about this and how do you think she will react? Diane (Christine Baranski) incorrectly concluded that Will had been the one to end it all because of this investigation, and even if she doesn't know the truth it still is the best thing for him professionally and for his relationship with Diane. Also thanks to Diane, Will has a new ally in Eli (Alan Cumming) who would also suffer if this investigation damages the Lockhart Gardner reputation and Eli has a strong connection to Peter (Chris Noth) that he might be able to exploit.
It might be too late to try that avenue as Wendy Scott-Carr (Anika Noni Rose) seems hell bent on pulling out the big guns for this investigation and has even got investigator Andrew Wiley (Tim Guniee) on board. We have seen before how Wiley will not let an investigation go until he finds out the truth and when he didn't quit his pursuit of discovering who Leela was, he ended one very fine friendship at the core of the show.
Speaking of this friendship, we saw how frosty Alicia still is with Kalinda last week when Caitlin (Anna Camp) called for help. Kalinda also found the not so kidnapped Grace (Makenzie Vega) but didn't want Alicia knowing about her major role in finding Grace. It looks like Alicia will be returning the favour this week after Kalinda gets arrested for harassment of jurors and I can't be the only one to get excited by this promo when Alicia says to Cary (Matt Czuchry) "you bring Kalinda to me now." Will this be the start of the frosty relationship thawing? Or are we likely to see more of Will and Kalinda in their lonely hearts drinking club where they can now both pine over Alicia?
One name that I am happy to see on this week's cast list is Owen (Dallas Roberts) and this is the ideal time for him to make a visit as his sister is more than likely to need a friendly face. Owen in the past has been there to give Alicia the gentle nudge that she needed to assert herself; will he be doing the same tonight? Also appearing tonight is legal aid lawyer Justin Coyne (Romany Malco) who will be helping with the case that saw 9 'not guilty' verdicts being changed to 10 'guilty' in one round of voting; what happened in the jury room to change their minds?
Spoiler Alert In other exciting returning cast member news TV Guide has reported that Denis O'Hare will be reprising his role as Judge Abernathy in an episode that is slated for the end of January. In bigger guest star news TV Line has confirmed that Carrie Preston will be back as Elsbeth Tascioni, this time around she will be representing Will as he battles against the corruption charges that the SA office is levelling at him. I cannot wait to see what Tascioni will have to do to get Will out of this mess. End of Spoiler Alert
This is the last episode of The Good Wife before the break and it would seem that after last week's drama there is much more in store for tonight. If you could have a Good Wife holiday wish granted what would it be? To have Kalinda and Alicia as friends again? To stop Dana (Monica Raymund) trying to be all Kalinda on Kalinda? Or to have Will and Alicia reunite? Let us know your thoughts in the comments below.
To watch a promo of tonight's episode "What Went Wrong" head here.