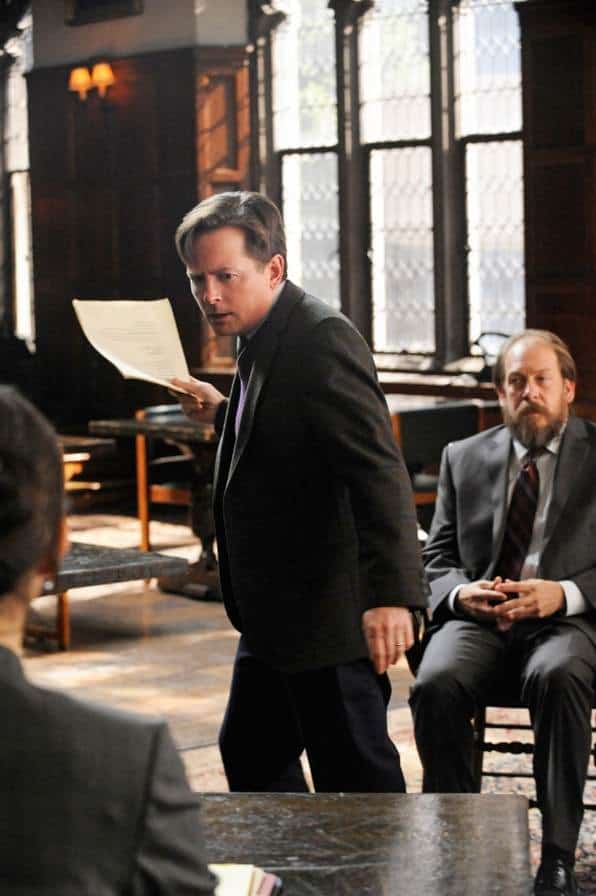 Tonight's episode of The Good Wife not only sees the return of Michael J Fox's antagonist Louis Canning, but also features Dexter star Jennifer Carpenter and a family crisis for Alicia (Julianna Margulies). Throw in the warning that Diane (Christine Baranski) gave Will (Josh Charles) in the last episode and the State Attorney's investigation into Will continuing and it looks like this will be an emotionally charged night.
Oh Grace (Mackenzie Vega), she almost redeemed herself last week with how she responded to Jackie's (Mary Beth Peil) actions towards Alicia, but tonight she will be the center of attention for the wrong reasons. Grace is a character who falls into the annoying teen camp, which the writers seem to be unsure of how to use her as opposed to Zach (Graham Phillips) who seems to have more of a purpose on the show and now she has to go and get into a seemingly random car and go missing.
The thing that triggers Alicia's panic mode is the 12 attempts that Grace has tried to get hold of Alicia and now she isn't picking up her phone. Alicia does the smart thing and calls Peter (Chris Noth) who uses his position to get an early search going for his missing daughter. One person who might be useful in this is Kalinda (Archie Panjabi) and this would be a good time for Alicia to put her differences towards her former friend to one side to enlist her help. This event might open the door to reconciliation if Kalinda is there for Alicia in her time of need.
This is a complicated time for Alicia in her personal life; even though she is currently unaware of the investigation into Will and Diane's subsequent conversation with him over the matter this is something that Alicia is likely to learn of very soon. Is Will going to do the sensible thing in terms of business and end it as Diane told him to, or is he likely to take the gamble and lead with his heart? Whatever option he chooses there is likely to be heartbreak and ramifications for his actions. If a split is inevitable (which I hope it isn't) this might be the perfect time for Alicia and Kalinda to become friends again as a tequila drinking session might be required.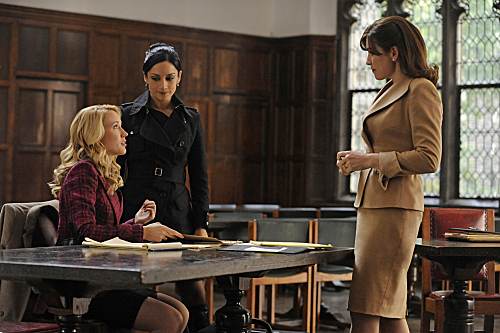 In terms of this week's case, guest star Jennifer Carpenter (who you will also be able to catch on Dexter tonight) is playing Pamela Raker, who believes that she was fired from her job for political reasons. The opposing council in this routine arbitration is Louis Canning who has caused problems for Lockhart Gardner in the past. Caitlin (Anna Camp) is Alicia's co-counsel on the case and this is made all the more awkward as Canning has employed Martha (Grace Rex), who was the unsuccessful candidate against Caitlin earlier in the season. Martha was Alicia's first choice and Alicia even informed Martha that she all but had the job; this experience is likely to influence Martha's performance against Caitlin that will add another layer of tension to the episode. In the sneak peek below you will see Canning and Alicia having a discussion about the pair of junior associates which is full of passive aggressive digs and pretend niceties.
Canning is not just there to antagonize Alicia but he will also be a surprise source of comfort when Alicia's family drama goes down. It also looks like Canning will be making Alicia a job offer; is this serious or just another manipulation to throw Alicia off her game? If it is a real offer will she be more inclined to consider it if the waters get frosty over at Lockhart Gardner regarding her relationship with Will?
This certainly sounds like an action packed episode of the The Good Wife and with just one more episode after tonight before the break for the holidays; the tension is building in both the personal and professional aspects of the plot.
Check out the sneak peek for "Parenting Made Easy" below and for the promo head here.