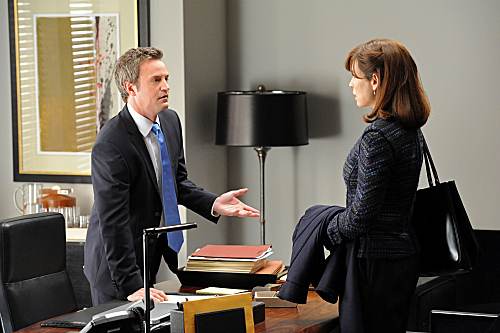 One of the central themes of The Good Wife is how the personal and the political can never truly be separated; if you are a political figure and you cheat on your wife it is expected for your wife to be at the press conference where you apologise to your voters. This is the opening scene of the pilot of The Good Wife and one that has happened on many occasions in real life politics.
A candidate's actions regarding their family can be just as important as policies, so it is not surprising that the lines will become blurred once again on as Peter (Chris Noth) must decide whether he will be running for governor or not. Eli (Alan Cumming) will also be facing a big decision that will influence both his career and his personal and relationships. Oh and Matthew Perry is back tonight and he is playing less than friendly and with just three episodes left expect big things. Spoilers ahead.
The last episode ended mid-scene and pre-big confrontation between Alicia (Julianna Margulies) and Jackie (Mary Beth Peil) in the beauty salon and this will be where tonight will resume. There have been previous big arguments between Alicia and Jackie; Alicia has always been able to keep her emotions in check until she is away from her meddling mother-in-law, but will she be able to control herself tonight? This is not the only confrontation that Jackie will be involved in tonight and it looks like things could take a turn for the worse for one of the folks involved.
Alicia does have a case tonight where she is counselling a client about whether to accept a strict plea deal, but it is Peter's campaign that will be her focus. A new rival is threatening to bring Alicia back into the spotlight and it looks like it will be Matthew Perry's Mike Kresteva who will be doing the threatening. We were introduced to Mike in "Blue Ribbon Panel" and he definitely seemed somewhat preoccupied with the fact that Alicia is married to Peter and it would appear that he was testing the water with Alicia here. Mike is quite happy to play dirty and if he seemed antagonistic on that panel it looks like he is about to get way worse. We already know from Donna Brazile's time on the show that there are rumblings that Peter and Alicia are separated and it really wouldn't take much to confirm this information; will Mike use this gossip against Peter? Or will Mike use something that will affect Alicia's career? Check out the interview with Matthew Perry and Julianna Margulies below for some sneak peeks into what will go on between these two characters tonight.
It may not seem like it should matter if Peter and Alicia are together, but as it was so bluntly put in last season's finale; "I don't think that's her [Alicia's] choice. Without her Peter is a john who overpaid for a prostitute, with her he's Kennedy." Sadly this stuff really does matter in the political sphere and so Alicia might have a huge decision on her hands, especially if she thinks Peter should run.
We are at episode 20 this season and episode 20 last year was the last time that Alicia was called upon to play the 'good wife' to the media as she went on television before the vote for State's Attorney. This episode also happened to be where Alicia found out about the whole Kalinda (Archie Panjabi) betrayal, so can we expect another huge revelation? Tonight's episode is called "Pants on Fire" (and was originally called "No Ordinary Lie") so there is definitely some deception at play.
Another returning face tonight is Parker Posey as Vanessa Gold; Eli's ex-wife and another person that is running for political office. Eli has been helping his ex on the side with her campaign, advising on what color to use for posters and the like but will have to make a choice between Vanessa and Peter? Whatever decision Eli makes it will be good to have Parker Posey back as she has great chemistry with Alan Cumming and it is always enjoyable to see Eli a little flustered.
Other big changes are coming for Cary (Matt Czuchry) as he evaluates his career and his position within the SA office after his demotion. This storyline will be touched upon tonight but is going to be in full focus next week. We will also be introduced to an attorney from Will's past; Callie (Julianne Nicholson) who owes Will a date from a long time ago. This development is unlikely to please Will/Alicia fans but is it really a sign that Will is ready to move on from Alicia?
In a season that has featured few Peter and Alicia scenes together this looks like it could be a huge episode for the separated couple; will Peter run for governor with Alicia by his side?
Updated: View photos for the season 3 finale of The Good Wife, including the return of Michael J. Fox and Martha Plimpton.
For all of our coverage of the show, including sneak peeks, spoilers and more, browse and bookmark our showpage for The Good Wife. Watch an interview with Julianna Margulies and Matthew Perry, that also contains clips from tonight's episode below.