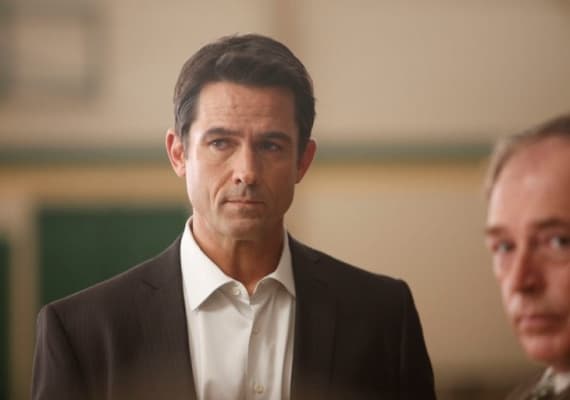 Mayor Darren Richmond is officially out of office.
According to Variety, Billy Campbell will not be returning to The Killing for the upcoming third season, tentatively set to debut in May 2013. There's no word yet on how the actor, whose character won the Seattle mayoral election in the second season finale, will be written out of the show, nor any indication of any other major casting decisions. However, Michelle Forbes and Brent Sexton won't be returning for a third season of playing Mitch and Stan Larsen, which was expected, while Mireille Enos and Joel Kinnaman are thought to be very likely to reprise their roles as Sarah Linden and Stephen Holder for season three.
The second season of The Killing found the murder of Rosie Larsen being solved by Linden and Holder, connecting it back to one of Richmond's aides, and Linden deciding to leave the force for good. Though Holder received a call in the finale about another murder that had happened in the city, it's unclear whether that'll be the case that draws Linden back to Washington or if there'll be another crime that draws her obsession like the Larsen murder did for nearly a month.
After being canceled this past July by AMC, The Killing was unofficially un-canceled last month following a Variety report that indicated the writers had began crafting a third season. Netflix is said to have had a role in resurrecting the crime drama and will shoulder its production costs before streaming it following the AMC run, though talks are still underway. The streaming giant also recently ordered more episodes of its Arrested Development revival and will debut its first original series, an adaptation of British miniseries House of Cards, come February.
In addition to his two seasons on The Killing, Campbell has appeared on the likes of The 4400, The O.C., and  Eureka. He'll next appear in Nat Geo TV film Killing Lincoln, based on the book of the same name by Bill O'Reilly, where he'll be playing Abraham Lincoln.
How do you think Mayor Richmond will be written out of The Killing? Will you be watching the show when it returns for a third season? What type of case would you like to see Linden and Holder tackle after solving the Rosie Larsen murder?