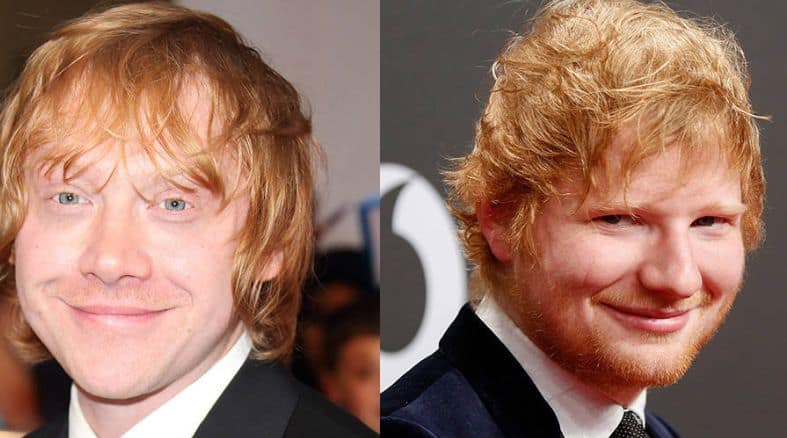 Now that Ed Sheeran has his third album released, it's given attention to an unlikely source, Harry Potter alumni Rupert Grint.  During an appearance on The Late Late Show Monday, the child star told James Corden about how he's typically confused for the red-headed Grammy winner. "It's kind of 50/50 now," he joked. "Someone stops me—it could go either way. I could be Ed or I could be me."  Why do I not even remotely believe this?
Because the two of you have shaggy red hair you look exactly alike?  Because you both wore a shirt that says "Duffer" and took a picture together?  You guys look nothing alike whatsoever except for having shaggy red hair.  That's it.  Sheeran still has a career.  Grint doesn't.   Sheeran has the voice of an angel.  Grint doesn't.   Sheeran is besties with Taylor Swift.  Grint has a poster of Taylor Swift in his bedroom.  You know, stuff like that.
I kid though.  I like Rupert Grint though I kind of wish he had the post Harry Potter success that Daniel Radcliffe and Emma Watson have had.  Even Neville Longbotton (Matthew Lewis) is landing more roles than Grint is right now.  You gotta have a thick skin is you're gonna make it in this business Rupert!
Check out the James Corden interview below: